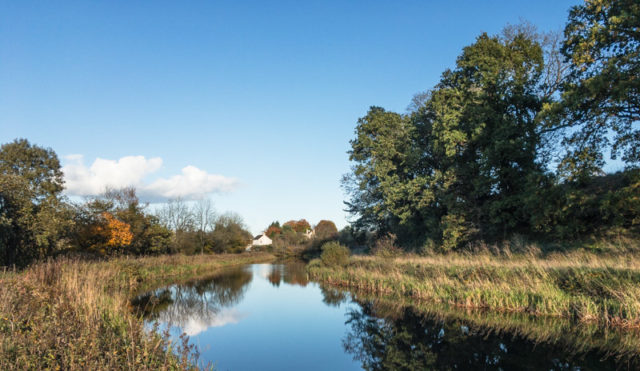 A much better day today. For once we thought the weather was trying to please, not punish.
Woke to milky white skies, but as the day progressed, so did the quality of the weather. By midday there were definite signs of blue skies and sunshine. Now that is more like the thing. I made the most of it by taking some shots of the light shining through the sweet pea leaves and also grabbed a shot of a hover fly on one of Scamp's yellow flowers. I don't know the name of the flower (or the hover fly), but I liked the shot. Immediately afterwards, Scamp decided it was time to strip out the sweet peas, so I was hoping that I'd got those shots cleanly. There would be no going back for more.
After lunch I decided that I wasn't going to sit around all day and got my boots on and went for a walk along the canal and across the plantation to the old railway. I'd intended walking back along the side of the Garrell Burn, but with all the rain we'd had in the last week, the path was flooded in a few places, so I satisfied myself with taking a few 'selfies' using the Samyang. You'll have to go to Flickr to find the evidence. Just click on the Picture of the Day at the top of the page to be redirected. With the road blocked, I walked back along the same path I'd taken to get there, and back along the canal. That's where PoD came from. This was taken with my new iPhone app, Procamera. The amazing thing about it is the ability to save images as RAW files, meaning that post-processing is possible in Lightroom. That explains the superb photographic quality of the shot. Sorry JIC, a little bit of technospeak slipped in there.
Came home and decided that Scamp's Chicken Broth tasted so good that I'd rather have that than go dancing in Glasgow. Anyway, although Scamp claims that her ankle is ok, we both know that she lies through gritted teeth where dancing is concerned. We backed out and stayed at home, rather than go to Mango. Chicken broth for dinner followed by chicken omelettes. Just lovely.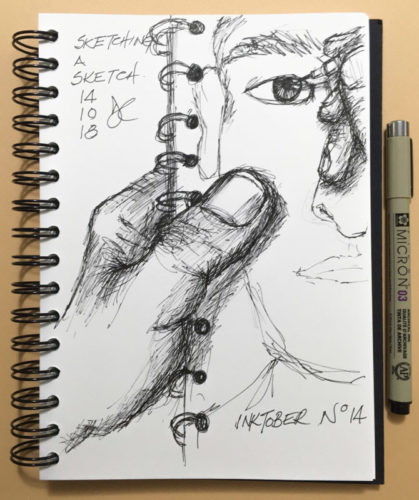 I'm really pleased with today's Inktober sketch. I did something similar last year, or maybe it was in February this year, anyway, it's a bit of a drawing within a drawing if you see what I mean.
That was about it for a lovely day and while watching Countryfile (without the despicable 'Tom' or John Craven) we saw the long range weather forecast for the week and the temperature is to drop tonight, but there will be much less rain and wind which is a blessing.
Tomorrow is Gems, so I may go for a swim or failing that, a run on Dewdrop.