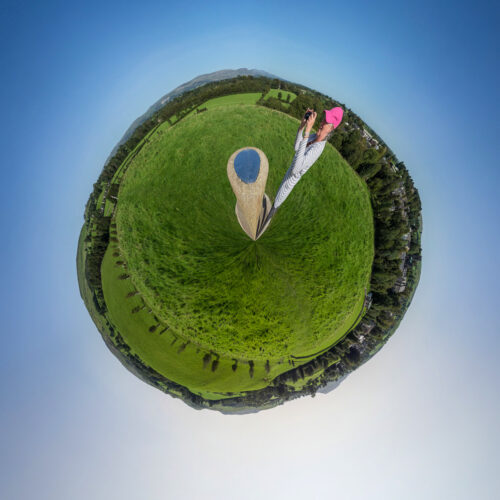 In that order!
The butterflies were feeding on ivy flowers on Frank's Bridge in Kirkby Stephen. As far as I could tell they were all Red Admirals. They were taking a fair bashing from the honeybees whose territory they seemed to have invaded. The bees made their displeasure felt by apparently deliberately bumping them off the flowers. A strange behaviour I've never witnessed before.
Over the bridge, we were discussing which way to go, when a dog walker told us there was a great view from the hill beside the cricket ground. We thanked her and climbed the hill to the viewpoint at the top and she was correct. There was a great view all around from the top. Because the hill was fairly high, it was an uninterrupted view too. We met a couple from Durham who were also admiring the view. I took a few photos which turned into a 360º panorama which in turn would turn into a Tiny Planet. A bit of a cliché, but I haven't done one in a long time, so that makes it ok. It became PoD, despite the fact that Scamp doesn't like it.
Said goodbye to the Durham couple and walked down the other side of the hill and basically retraced our steps from Monday's visit. Aha, but Scamp had other plans. After reaching the part where we would have turned right and walked back into town, we continued on using a wee lane to cut off a long corner on the road and almost reached a quarry entrance before we turned on to the old railway path. I like old railways, especially ones that have been turned into safe walkways that cut across country. It's usually easy to imagine steam trains running along these arteries before Dr Beeching and his cuts destroyed the British rail network, back in the '60s. This one led immediately on to the Merrygill Viaduct over the Hartley Beck. We continued on to the Podgill Viaduct which crosses the Podgill Hole (!) which is another tributary of the River Eden.
There was a viewing gallery at the Podgill Viaduct, down 42 steps from the path. Fairly easy going down, but a killer coming back up. However it did give us a good view of the viaduct from below.
Climbed back up those 42 killer steps and walked back into the town. Got a seat quickly at the wee café Scamp had her eye on since Monday and had lunch there washed down with a half pint of Bitter & Twisted each, before heading back to the house. Well, we also had to stop for some bread and a cake each at the town bakers and some bulbs and another pot of marmalade from the deli.
Dinner tonight was a carry-out. Sim had phoned in an order for Chinese which JIC went to collect while I waited at Coast to Coast for three Fish & Chips. One door and a queue where you wait to place and pay for your order. Another where you queue to collect that order. One woman who shouts at you because you obviously don't know how this works (she seems to be the only one who does) and one woman who for some reason treats you like a human. Good chips and excellent fish though.
More TV tonight and more pyrotechnics from the battlefield too.
Packing tonight, because it's the long way home tomorrow.