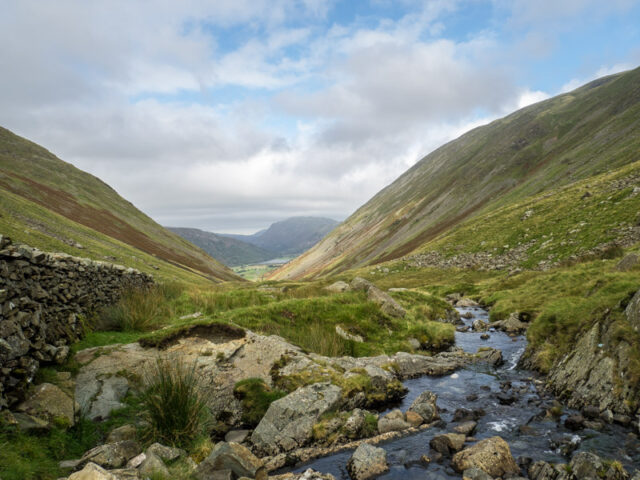 Today the walkers were going 'up the spout' again. We were heading for Ullswater to find another waterfall, Aira Force.
We set off on our travels, off the narrow roads and on to the busy A66. Found Ullswater quite easily with the help of the satnav. The scenery looked interesting but the roads are narrow and twisty, so there wasn't much of a chance to admire the views. Tried to park at Aira Force carpark, but it was a waste of time. Too many cars which meant far too many people, so we drove on to see where we would get to. Decided on Kendal which we hadn't been to and we'd be driving on narrow roads again which are so much more interesting than the wide 'A' roads.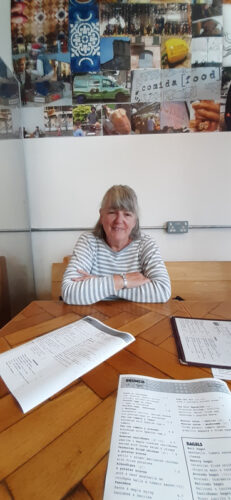 Climbed the Kirkstone Pass which I'm sure we'd driven before, many years ago. Stopped at the top to take the view you see here. I remembered that view looking down the pass to Brothers Water in the distance. Since I'd not had a chance to photograph the big waterfall at Cautley on either of our visits, I did manage a few slow shutter shots of a wee stream at the top of the pass.
Drove on from Kirkstone Pass, down the other side and took the turning to Kendal. Wandered round the town and then found an interesting restaurant called Comida which is Spanish for Food. Scamp had poached eggs on toast, I had poached eggs on toast with spreadable Chorizo and a side of Padron peppers to share, although Scamp wasn't impressed with the peppers. She did however order some churros which came with a glass of hot chocolate sauce and were delicious. It was an excellent lunch and we'd definitely go there again if we're in the Lakes.
Followed the satnav after an argument with it, but eventually had to give in and "perform a 'U' turn when possible". Came back through Kirkby Stephen and stopped at the Coop for more provisions. JIC and Sim were cooking tonight. Naked Fish and Carrot Chips! Sounded interesting and was. Very tasty. JIC did a great job of cooking the fish. We really need to try this at home. Carrot chips could be the next big thing.
Another beautiful day weatherwise.  Sat at night in the living room listening to the gunfire and explosions from the army camp a couple of miles away.  Skies lit up with flares over the 'battlefield'.  I don't know how the locals put up with the constant noise.
Tomorrow the walkers are off to Wild Boar Fell and we are hoping to do the Viaduct Walk in KS.