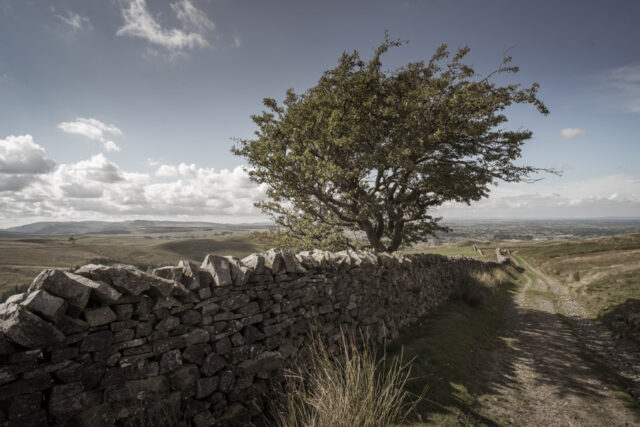 We woke to mist, or was it fog. Whatever it was, it was taking a while to clear. While it was clearing, Went out to take some photos of the sheep in the field across the road. I meant to shoot the sheep, but I got photobombed by the Shetland Pony stallion and I thought "Why not?" The resulting image worked for me.
Just after the sheep and photobombing stallion photo shoot, the mist started clearing quite rapidly and we were off to conquer the Nine Standards. The Nine Standards are nine (strangely enough), mostly conical cairns on top of Nine Standards Rigg which is over 620m above sea level. We weren't climbing all 620m because Jamie was driving up to a parking place below the start of the main climb. Actually we'd walked the first part of it from Kirkby Stephen to the parking place last year.
The climb, or walk, started off well with Vixen leading the way and at a blistering rate. Scamp and I were bringing up the rear and I will admit that I was feeling the strain after about 20mins, even at Jamie's relaxed pace. After a while we encouraged Jamie to go on ahead and keep Simonne company. Eventually at about two thirds distance I had to tell Scamp to leave me and walk up to meet the other two. I was almost totally exhausted. However, after about fifteen minutes rest sitting on some sheep droppings, watching the clouds form and reform over the distant hills I felt better, hoisted myself to my feet and plodded on up the never ending hill. Two more stops were needed to catch my breath and a couple of phone calls where I lied to Scamp that I was still sitting comfortably where she'd left me. No way was I going to tell her I was heading for the top. I think the others were almost ready to start the descent when I finally reached the cairns. A chocolate energy bar from Jamie and half a bottle of water sitting at one of the cairns gave me enough or a rest to start the walk down, which Jamie had repeatedly told us was much easier than the climb up.
He was right. The descent was much easier than I though it would be and best of all, instead of an ever present hill in front of us, we had a panorama of hills, blue sky and clouds to keep us interested. On the way down we met a group of three Auld Guys on their way up. We spoke a while to them. The lead walker was 76, the next was 86 and the final member was nearly 90. We were instructed to make sure to say "Well done, Colin" when we met him, and that's what we did. He just laughed and said "Somebody must be broadcasting it!"
After Jamie drove us home we were treated to another, even more spectacular air show with a low flying helicopter another BAE Hawk. I wonder how much that operation cost. No idea where the helicopter came from, but the jet came all the way from Anglesey.
Scamp an I went for another walk along the road later in the afternoon to loosen our legs. Jamie and Simonne were making Parmigiano Chicken tonight.
The PoD wasn't the cairns, or the view from the top, but the tree. It's been in and out of Lightroom a few times since it was taken, but I like the look of it now.
Tomorrow is the day we all know must come. We all go home, but today was mighty!