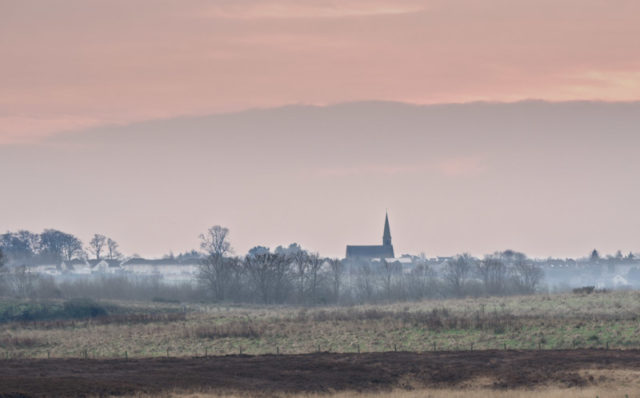 A bit of a nothing day. Not a lot to report other than the frost had all melted by about 10.30 this morning, but it was dull.
Finished off The Book of Dust. "A good read. A bit Boys Own Paper with some sweaty words", sums it up for me.
Finally got round to posting the last calendar, JIC. Should slide through your letterbox in a day or two. Printed out another two last night and that will be the end of the calendar print for another year, unless I go the whole hog and print one for myself. Unlikely.
Driving back from Tesco I say the sky turn a golden pink colour from an already setting sun. It was just after 3pm, but that's about the extent of the daylight at this time of the year up north. Drove round trying to find a suitable foreground for the sunset, but couldn't find one. Eventually gave in and took a shot from behind Moodiesburn looking towards Muirhead. The resulting image that loaded into Lightroom wasn't really what I saw, so I changed it a wee bit, and that's what you see above as PoD.
<Technospeak>
Hazy, I had a problem with WordPress last night. The editing was restricted to text input and no Visual option was available. I got the blog written and posted, but knew this was some kind of screw-up. Slept on it and this morning investigated and found it could be caused by an update of themes and plugins. Since I'd upgraded both the theme and a few plugins yesterday morning, I suspected that was the culprit. So, this afternoon I deactivated all the plugins and tested with a new post. Yes, the input screen was normal with the text and visual tabs available again. Long story short, I found the culprit to be the upgraded Wordrpress(!) Markdown plugin. I've deactivated it and activated all the rest, then found another Markdown plugin that did the same job without the side effects. I hope you're impressed, and thankful that I didn't just automatically phone the 'helpline'. I'm guessing you would have told me to do exactly what I found on the 'net.
</Technospeak>
That about sums up the day. Dull and dank, but with a reasonable sunset thanks to Lightroom and Picktorial. A sort of Software Sunset.
Don't have any plans for tomorrow. May take a trip to Perf, or may leave that until Thursday.