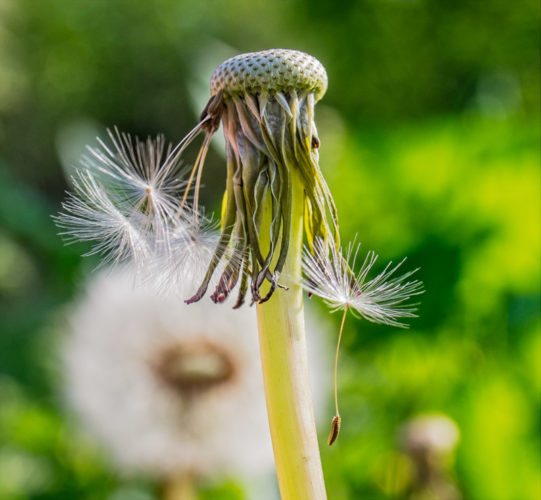 It had to happen. You simply can't avoid it every year.
Off to dull, cloudy Falkirk this morning to get some 'messages'. It wasn't much of an improvement from dull, cloudy Cumbersheugh. Came home (with the 'messages') and had lunch. Still no sunshine and still less than comfortable temperatures. Hmm.
It was much later in the day before the cloud started to lighten and we went for a walk along the canal. The pessimist as always, I took my rainy coat because it did look as if rain might stop play. It didn't and halfway along to Twechar I was forced to take may rainy coat off and tie it round my waist. The sun had now burned away the cloud and was shining from a big blue sky. We walked on to Twechar and then crossed over to the railway walk to take us back via the Plantation to the car. It was on the Plantation I got today's PoD. Taken with the 30mm Panasonic macro. It was the only one of the seven shots I took that was reasonably sharp, actually very sharp. It's a cliché, the dandelion clock or the little 'parachutes' that fly off from it. Every photog takes the pictures every year. We just can't avoid it. It's almost like it's hard wired into our psyche that we must take that photo. Usually once we've taken it, we can relax until the next year. Sometimes we continue on and on taking dandelion pictures for ages until we're sated and have to go on a dandelion diet until the next May.
I think the dull afternoon must have put a lot of people off, because we were only passed by a few runners and cyclists on our walk. Usually the canal towpath is a busy thoroughfare in mid May. Also today we only saw two dogs. That in itself is amazing. Maybe the dogs looked out at the milky white sky and said "Naw mate, no' gaun oot today" and went back to sleep.
Dinner tonight was crab spaghetti. It should have been Linguini, but Scamp doesn't care for the thicker pasta, so spaghetti it was. The crab was lovely and there was just enough chilli in it to brighten it up. Splash of white wine, a finely chopped bit of garlic, olive oil (good stuff-EVOO) and a handful of parsley with the Skye crab and you have a very tasty meal. I commend it to you.
Tomorrow I have an appointment with the nurse who will draw some blood for my annual check-up, but joy of joys, it's NOT a fasting blood test. At last we are being dragged into the 21st century. Hallelujah!