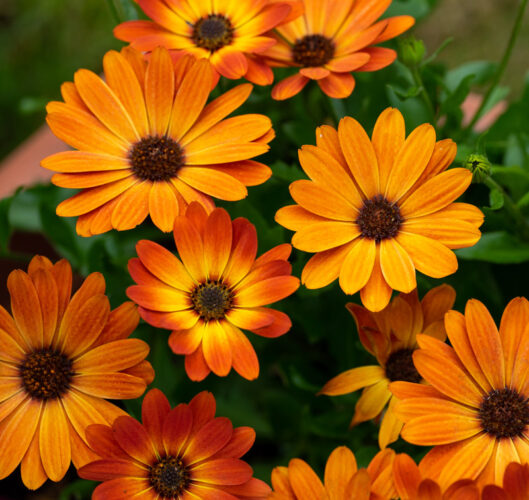 Just Val and me today.
I don't know if Val has fallen out with Fred, but he never mentioned whether he had invited him or not and I didn't ask. I thought I'd show him my new Huawei watch, but surprise, surprise, Val had one too. Like a couple of school kids we compared watch faces. He pinched one of mine and I pinched one of his. An hour and a half seemed to fly past and for once we didn't just talk 'tech'. It was more about trying to get back to 'normal'. Maybe not real normal, more like this new normal. Still, it was a step in the right direction.
Back home Scamp was just getting ready to go and dead head some flowers, so I took the opportunity to grab some pictures of some of her favourites. That's why today's PoD is a bunch of Osteospermum all vying for the best place in the photo. I was impressed with the way the Sony dealt with the red roses. The Oly was much quicker to focus, but it oversaturate the reds, the Sony gave a much more realistic rendition of the reds. Something to do with the bigger sensor perhaps?
I did go for a walk in St Mo's later in the day and got a decent macro of a shieldbug apparently steeling itself for a leap into space. In reality it was fighting with a wolf spider. I don't think the spider came out on top this time. Maybe it got sprayed by the shieldbug. They don't call it a stinkbug for nothing.
Back home it was veg chilli for dinner and as usual I made too much. Oh well, we can eat if for lunch tomorrow.
And with that, you are all caught up.  Two week's worth of blog written.  I'm glad it's done.
Tomorrow we may go in to Glasgow if the weather permits.