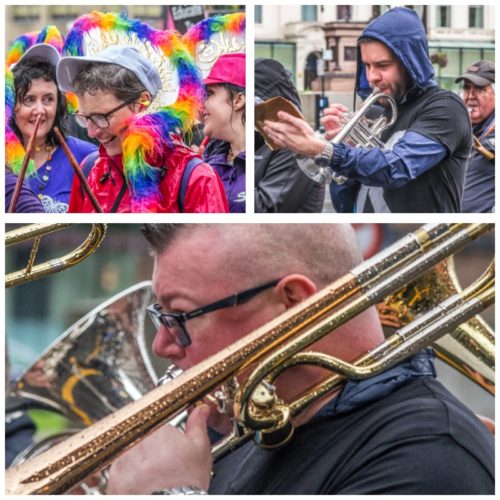 Some people will complain about anything.  Today as we were getting off the bus in Glasgow, one wee woman was berating the driver because the seats were too hard on the bus.  She told him in no uncertain terms that he should be supplying cushions for the seats.  The poor man just agreed with her.  It was certainly the path of least resistance today.  The bus he was driving was definitely a bit rickety and seemed to be playing the complete percussion section of the First Bus Orchestra all by itself, but cushions?  I think that might be a step too far.
We had been promised rain today and we got it in abundance.  After walking down Buchanan Street in the rain, it simply got heavier as we waited to see the Gay Pride march go past.  We felt really sorry for them plodding along in the rain trying to look suitably festive in their rainbow capes, rainbow flags and rainbow scarves, soaked to the skin.  Scamp was looking for one of her friends who was supposed to be taking part, but she later confessed that said friend was probably still in the pub.  I might have felt sorry for the marchers, but I felt even more sympathy for the poor drivers in town who had to sit and wait for about half an hour for the parade to pass through, with only two short breaks to allow the traffic jam to partly clear.  Polis were nowhere to be seen at any of the road junctions.  Total shambles.
Lunch was a pizza each in Mediterranianeo in Ingram Street, then we went for a walk in the rain to get a couple of DVDs for tonight's viewing and avoid another night of the dreadful Rio Olympics.  Then it was home again on the bus, and who was sitting behind us?  That's right, that same wee woman.  It was a different bus from the one we went in on and the seating on this one was far superior.  I don't know if she critiqued the cushioning as she left the bus, but I wouldn't have put it past her.  See JIC, it's not just me.
Dry weather forecast for tomorrow.  Not sunny, but dry.  We'll take that.