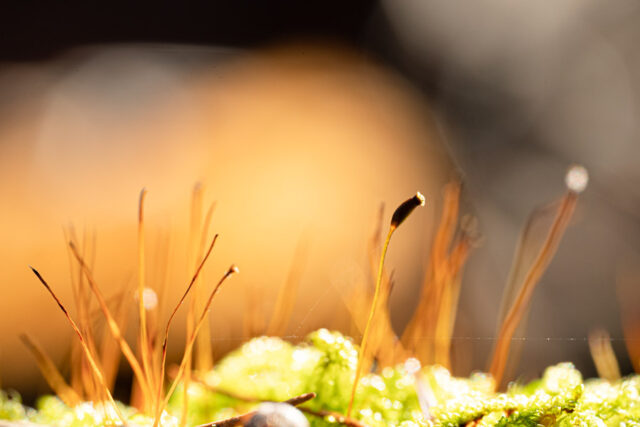 Out photographing in the morning sun, dancing in the afternoon and fish 'n' chips for dinner. Does life get any better than this?
I knew that most of the afternoon would be taken up with driving and dancing, neither of which I mind, but it was a lovely clear day and probably the only good day we've had for at least a week. The only way out of this and out in the fresh air was to go early, and that's what I did.
I only had an hour or so out in the wilds of St Mo's, but the light was good and bits and pieces of colour are appearing now. Green shoots are appearing, maybe a bit early, but the trees are preparing next years greenery already. However, it wasn't the greenery or the trees that made PoD it was an alien looking landscape that was moss fruiting bodies in the morning light.
Back home, a quick lunch and we were off to Paisley, Sunny Paisley today. Still the same convoluted traffic system with a multitude of traffic lights. But we got there, a little later than anticipated, but we got seats too, although we didn't sit on them much. I think the longest I was sitting was when the tea was served and when they played two line dances (if you can call 'Waltz across Texas' a dance. It's more a walk around the floor with a grumpy face) back to back. The rest of the time we were on the floor for a waltz, every sequence dance, tango, salsa. Basically, you name it, we danced it. Some better than others, some for less than a minute before we admitted we didn't know what we were meant to be doing.
We'd agreed that we would leave half an hour early today to try to avoid the worst of the traffic going through Paisley town centre. It worked. That half hour early must have cut at least an hour off the drive home.
I went for a walk to the shops when we got back, well, it is Thursday and traditions must be upheld. I didn't take a camera with me because I was sure I'd enough in the bag from the morning walk, and so it turned out. It was a pity in a way, because there was a glorious sunset, all reds and golds.  Came home to the smell of home made Fish 'n' Chips.  Definitely the best fish and chips I've had for months.  Scamp's expertise again.
Tomorrow doesn't look anywhere like as good as today with wind, and rain forecast. If we manage to get out for a walk we'll be lucky. Have a good flight home, Jamie.