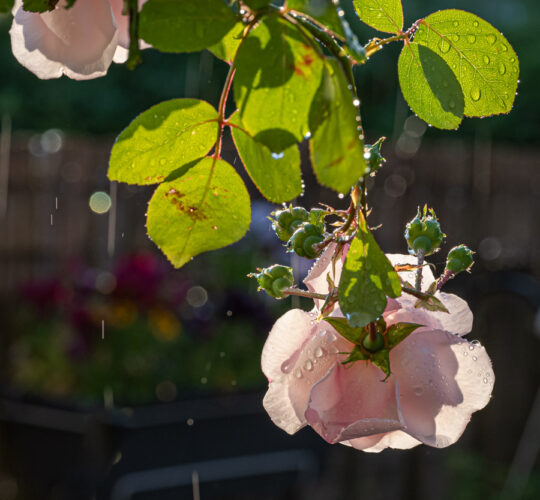 Out dancing in Paisley
We drove over to Paisley just after midday for today's tea dance. Got there late as usual. My fault again, as usual. Danced the afternoon away. We didn't dance the Tango because we were too busy talking and we didn't dance the Quickstep, because we can't remember any of the steps Michael taught us and we never get a straight run at it with Stewart and Jane because we're off visiting somewhere. One of these times we'll get a chance for a private lesson and begin to dance the Quickstep. Everything else, Waltz, Social Foxtrot, Rumba and Cha-Cha plus innumerable sequence dances. It was a great way of adding to our step count and must have done us some good, because we were both exhausted when the 'Last Waltz' was called.
When the dancing was done, I gave Stewart the painting he'd asked me for back in February. It's not the exact one he saw on Facebook, but a very good copy, and a larger copy too. I think it's going to an 80 year old lady who simply loves 'Green Door' by Shakin Stevens and that's what's in the painting, my version of Green Door. I told him that I hoped it would exorcise that song which constantly runs through my head. I catch myself singing it at odd times through the day. It must be some kind of strange disease, because I hate that song!
As we were driving home I kept watching the great black clouds that were gathering in front of us and remembered the warning 'Alexa' gave this morning for thunderstorms. However, we got home without getting wet. The car took a bit of a soaking, but we were dry. Scamp's washing that she'd left out also got an extra rinse from the rain, but the sun was warm and there was a gentle breeze, so most of them were drying. Despite that, she decided it was time to take them in and it was a good choice, because not long after that, the rain came.
I couldn't be bothered going over to St Mo's after the rain stopped. Instead I took some photos in and around the garden, but they weren't that good. Despite my best efforts, I just couldn't make a silk purse out of that sow's ear. It was after our, Bacon and Borlotti Beans, dinner when I took a look outside and saw the light shining through the rain and the roses that grow round the back door. That's where today's PoD came from. Roses in the rain.
For once, I enjoyed the tea dance. I felt at home with most of the dances, even the social foxtrot which we've never managed, we did quite well today. It wasn't full of fancy moves, it was just moving to the music, but that's what dancing is, isn't it?
Absolutely no plans for tomorrow, but there will be something, you can bet your boots on that.