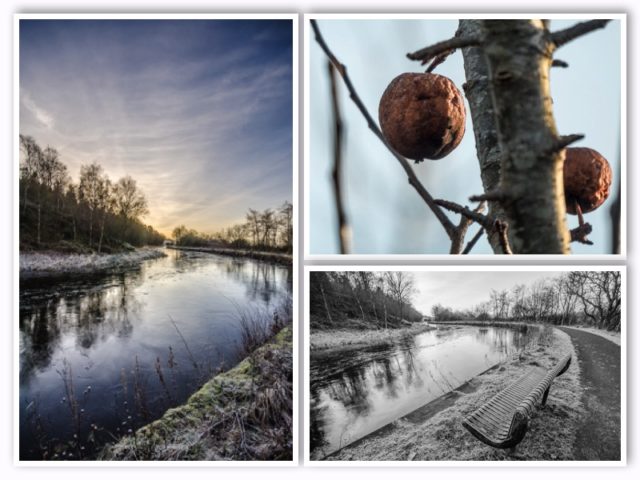 It was a late start today. I hadn't meant to sleep so long, but there are no alarms on weekends.
I spent the morning parcelling up the calendars for Dorothy and my friend Peter. I also took some time writing notes for the parcels. It was only after I'd written the address on the last envelope that I checked and found that the post office was closed on a Sunday. Oh well, they wouldn't be uplifted until tomorrow anyway. I'll post them tomorrow with a bit of luck.
After lunch which traditionally is a fried breakfast on a Sunday I almost managed to get Scamp to come out a walk with me, but she'd been outside and knew just how cold it was, so she decided she'd rather do some ironing than face the great outdoors. I needed a PoD and I don't do ironing very well, so I got dressed for the arctic and drove down to Auchinstarry then walked halfway along the canal which was frozen right across and took some photos from the only seat on the path for miles. Walked back, across the plantation and from there back to the car. Not quite my 10,000 steps, but at least I was out in the fresh air. Cold fresh air to be precise. I don't think the temperature got above zero all day.
Just had time to dump the photos in the Mac and tweak some before it was time for the big event of the day, Dancin'. Drove in to Glasgow and got parked less than 100m from Arta. Inside it was fairly busy even if it was quite early. I don't know what they had done to the floor, but it was lethally slippy. Almost took a tumble a few times and wished I'd worn my trainers instead of my shoes with the no-grip soles. Still, it was a good night with lots of firm handshakes (only one 'funny' one) and lots of 'mwah' kisses, everyone coming with a 'Happy New Year'. That's what I like most about the salsa community. Its friendliness.
Home to the remains of last week's steak stew dinner reheated and none the worse for it. Also the last G 'n' T until Friday. An extra cold one as Scamp had left the tonic in her car in today's sub-zero temperatures. The abstemiousness starts here. Oh by the way, when I was walking back into the house after retrieving the tonic, my watch vibrated to signal that I'd completed today's 10,000 steps. Must have been all that sliding across the dance floor!