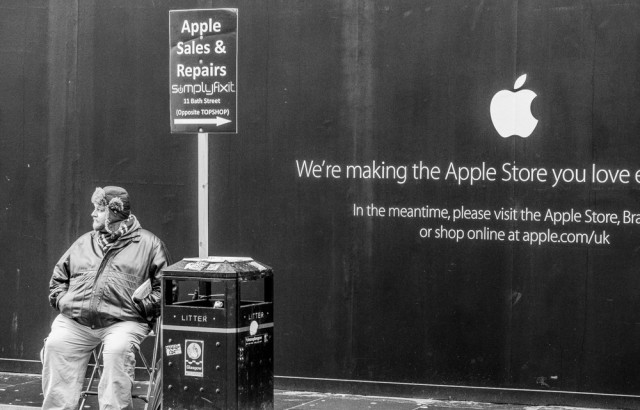 It snowed during the night. When we woke it was bright white sunshine that was coming in the windows. Such a nice difference. Yes, I knew it was going to cloud over and there was the chance that we'd have more snow during the day, but for a while it was sunny.
Had a relaxed start to the day, no need to rush on a Saturday now. Let the workers do the rushing to make the most of their weekend. Us retirees can take our time. Finished the book I was reading "Strange Loyalties" by Wm McIlvanney. It was a bit of struggle finishing it, rather like wading through treacle at times, but good use of language. Full review on Goodreads (3/5 stars).
Luckily we had planned on a bus journey to Glasgow because I didn't fancy driving anywhere today with blizzards forecast for everywhere in Scotland. As it happened, we didn't see any blizzards, but there was a bit of snow as we were driven in to the great metropolis that is Glasgow.
This being our anniversary, or the anniversary of the day we met, we went for lunch. Today's choice was Charcoals. I had Rara Gosht and Scamp had Chicken Dopiaza. They were both lovely – not cheap, but lovely. We wandered round 'The Toon' for a while and then came home on the bus.
By the time we got back most of the snow had gone. It was a great day.
Today's PoD, in fact the only one worth talking about, was taken outside the Apple building which is being 'modernised'. A nice bit of business acumen there.