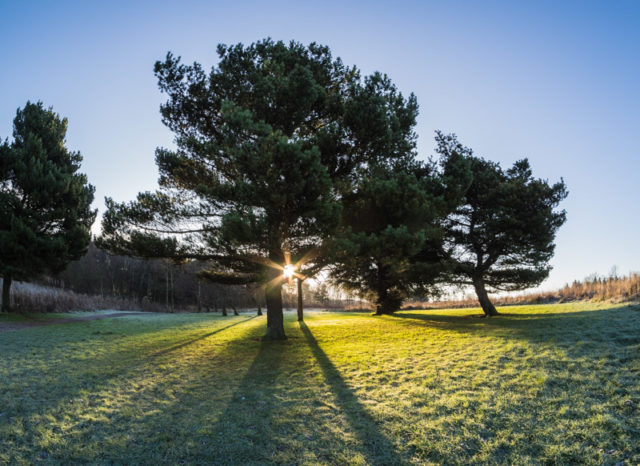 I was first out this morning which makes a pleasant change!
I went for a walk over to St Mo's hoping to catch some low morning light, and almost succeeded. I should have been maybe half an hour earlier then I'd have got some better angled light, but the trees with the light behind them proved useful, and made PoD. By the time I got back, Scamp was already out and on the bus to Glasgow. I just had time to dump my photos and then head off for coffee with Colin.
The great thing about having three friends with totally different, but in some ways similar interests is that when we're all together as a group of four, nobody really has a chance to dominate the conversation with their personal stories and it's easy for everyone to chip in. The good thing about meeting one-to-one is that you get a more in-depth talk and sometimes a chance to air your opinion or grievance without interruption. Both setups have their advantages and disadvantages and are not mutually exclusive. Some days like yesterday when talking with Val, I pick up loads of information and also enthusiasm. Today with Colin where we share a history but not any mutual interest, it's a totally different conversation that materialises. We talked about people we'd taught and met along the way. Colin is perhaps the most forgiving and also the least acerbic of the group. Me? I just try to stir things up until an argument ensues, then walk away with a smile. Usually I get caught, but sometimes I can still play 'devil's advocate' and get away with it. Not today though, Colin's too long in the tooth for that. Parted after an hour and a half and I drove in to Glasgow to meet Scamp for lunch while Colin drove home.
Met Scamp and walked down to Paesano for lunch. The place was jumping, but since we only needed a table for two, we easily found a space at a bench. Bloke next to us just had his pizza delivered and was about to start in on it when it was just as quickly whisked away. It wasn't his. We began talking and when ours were delivered I was about to offer him a slice when his own came. He made a very strange comment that I wouldn't have considered making to a stranger. He turned to me and said "You don't wonder why our generation is totally screwed when you listen to the two on my right." The two in question were two obviously gay men and although I couldn't hear their conversation, he obviously could. I gave a rather noncommittal reply and he continued with his lunch. I don't know what his agenda was, but as far as I'm concerned, they can live their life as they please. "They're not asking me for the money" as my mum would say. Live and let live has become my motto.
After lunch Scamp and I split up and went our own mysterious ways and met up again at the car.  You see, you can spend even more money if there's two of you doing it.  That's what Xmas is all about.  Nothing at all to do with Christmas.
Drove home in the gathering gloom and the lowering temperature. Weather tomorrow looks grim with rain, sleet, snow and freezing rain forecast. All blown in on a strengthening wind. We had planned on going to Embra, but that has now been shelved for a better day.