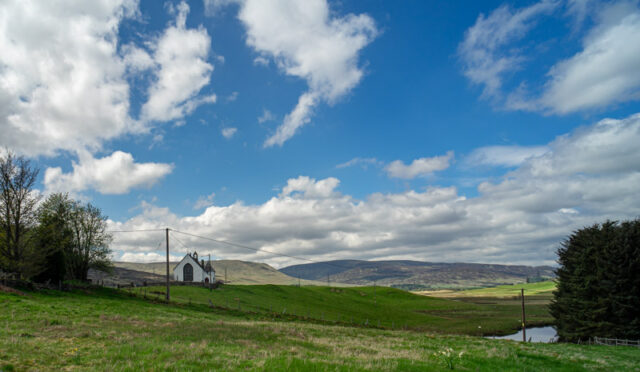 Another beautiful day dawned and we were going out.
The plan was to go to Perth. That was the focal point of the run, but there were lots of other places we could visit along the way, or afterwards. As Driver, I chose Amulree as a place to visit along the way. I'd been looking at some old photos on Flickr of the church at Amulree and fancied taking some photos of it with the newer technology I now had. We plumbed Amulree into the sat nav and off we went.
The sat nav took us by a strange route, away from the very busy motorway and up into the hills. Then a twisty turny series of direction changes through Crieff before exiting into the hills again. By then I was completely lost and was just following the route blindly. However, about half an hour after we left the motorway, we drove down into Amulree with the church looking resplendent in the sunshine.
Scamp chose to stay in the car while I plodded off with a camera and a tripod to see if the church looked the same. It did. It had been painted since the last time we'd been which had been a few years ago. Other than that, not much had changed in the church or the graveyard. I don't like taking photos in a graveyard, even if the headstones are not my prime interest, but for some reason I don't have a problem at Amulree. I took about forty pictures and two of my favourites are in Flickr. Hopefully I'll get more posted in the next few days. My PoD was the landscape shot you see here. I had just finished when another four visitors arrived, not photogs, just tourists. They didn't give me any bother and were just looking around. Saw a wee painted stone on the entrance to the Kirk. I think it was one of the painted stones that people left lying around to be found when Covid was at its peak last year. It was neatly tucked away waiting to be found.
We drove on and found that we were only about 20 minutes away from Perth. Ah! This was the road I remembered. This was the way we came the last times. Back on to the A9 and heading for Perth we joined the queue dragging its heels along at 40mph through five or six miles of roadworks. It felt like a lot longer than that! I eventually got fed up and took a slip road off the wagon trail and followed my nose until we arrived in Perth. Finally found that half the car park had been turned into a Covid-19 testing place. Not only that, the attendant's box had been removed and replaced with four parking meters. Paid our money and went for a walk in the town. For many years the old church in the the town has been falling into rack and ruin. Only pigeons seemed to live in it. Then scaffolding was put in place and chain link fences closed it off. Now it's been gutted, really gutted and is in the process of being turned into an open air market. Great idea. Although part of it seems to have been removed, the remainder has been consolidated and even the clock in the tower is at the right time. Got some coffee and some tea and also a loaf from the Italian bakery. Scamp got a tee shirt.
Next stop was Glendoick garden centre on the Dundee road. We got some Calendula plants, a Prima Ballerina rose, a Gypsophila plant and planter to put them in. Then we were on the way home again.
It was a beautiful day with really high temperatures. The thermometer in the car was reading 27c on the way home.
Dinner tonight was a slice of yesterday's frittata with chips I got from the chip shop in Condorrat.
Today's sketch was a stapler. I drew my staple gun. A heavy duty metal one that has served me well for years.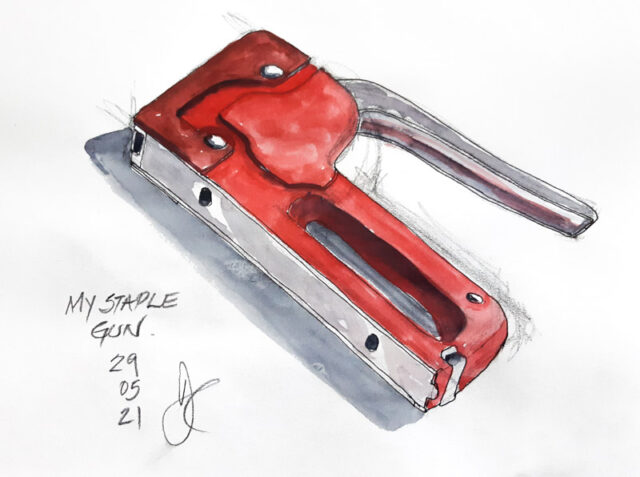 Tomorrow is forecast to be the same as today, if not hotter. We'll believe it when we see it.