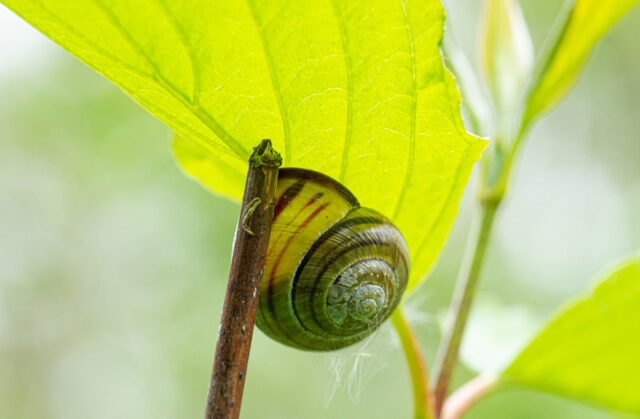 We couldn't decide whether to trust the weather or not. NOT won.
It wasn't a terrible day, but it wasn't looking like it would stay dry all day, so we chose to work in the garden instead. Lots of things needed fixing, moving, cutting and filling, so there were plenty of jobs to fill our time. I started by strimming the back grass. There wasn't much grass to strim, but just like a bad haircut, it's the little areas with the long strands that make the place look untidy. I'd done most of the grass and weeds when the plastic cable on the strimmer broke. When I thought I'd reassemble the cutter again the drum flew off and the plastic strands became tangled into a birds nest. Ten minutes and a bit of swearing later it was working again … properly!
Scamp meantime was rearranging the flower pots. Because of tree roots in the back garden, many of the pots sit at odd angles and today it was the pieris that was causing problems. I thought it might benefit from some bark underneath it as a cushion and levelling agent. The problem was that the pieris itself is really heavy and fairly bushy, so it takes two people to manoeuvre it into place again after it's been moved. I think it looks better now that it's on an even keel, but I'm not sure Scamp agrees. Only time will tell once it's settled in its place. I dug out some compost from our compost bin and used it to cover the sprouting potatoes in their bags, after I'd filtered it for slugs which were promptly despatched to the brown compost bin to go to the council recycling facility. Scamp was also adding a load of trimmings and rubbish into the same brown bin for recycling. All in all an hour and a bit's work made the whole back garden look so much better and gave us an appetite for lunch.
After lunch we went for a walk round St Mo's, but again, no damselflies, although the cygnets were out with mum and dad. Last night after posting the blog I was reading last year's blog and found that a year ago yesterday I'd photographed the first damselfly of the year. So, rather than being a bit behind this year, we are actually ahead of last year's hatch. The walk brought today's PoD which is a snail sheltering under a leaf. I wondered, as I was taking the shot, if that snail knew more than me and perhaps rain was on the way.
Dinner tonight was Frittata. Fry up a couple of leeks with any veg or meat you fancy in an oven proof pan. Beat up eight eggs and half a cup of milk and pour over the leeks/veg/meat mixture. Cook for about 5 minutes then bake in the oven at 180c for 15 mins(ish). Done. Serves four or serves two for two days. Sorry Hazy, obviously not for you!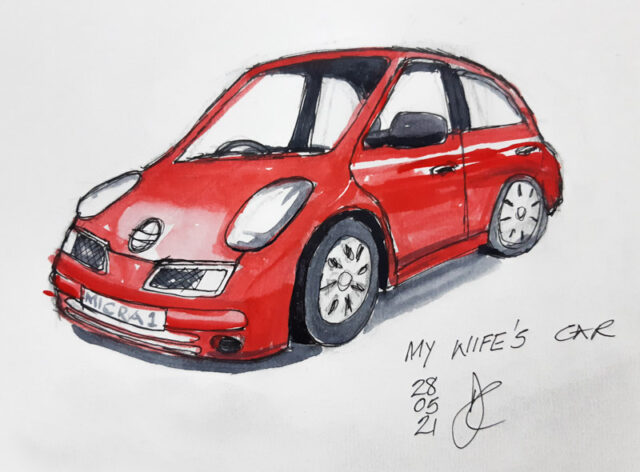 Today's prompt was for "Your Car, Any Car, A Matchbox Car …". I chose Scamp's Wee Red Car. I took some photos of it today and tonight I attempted to draw the car from those reference photos. Trying to get realistic curves in perspective is much harder than drawing an extension cable, even a four gang, switched, three pin UK one. Believe me. However, it's done!
So, although the majority of Scotland is now in Level 2 or below, Glasgow has to remain in Level 3 until next week at least. I feel sorry for all the restaurant owners and publicans who can't open their doors because a fairly small section of the community can't obey the rules. Another case of 'one bad apple', or so it seems.
Tomorrow we may go on the road again, somewhere, whatever the weather. That will mean filling the Blue car's tank again. That will be the fourth time in five months! I'm not sure we can afford this luxury!