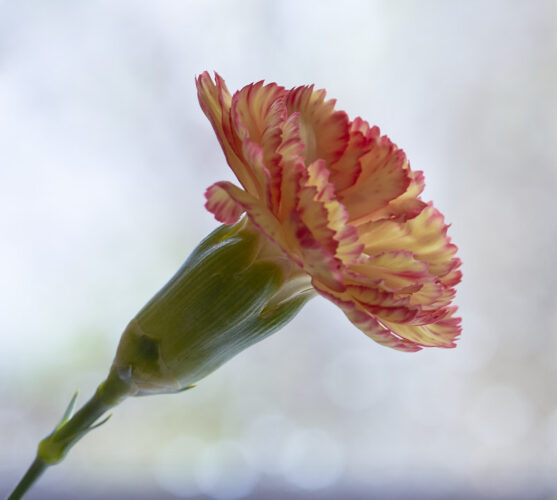 Taking Scamp for her second Jag.
It has been a horrible day as far as the weather is concerned. It's been raining since about 11am. It was actually raining before that, but only a light drizzle, but by 11 o'clock it was getting into its stride and it was being chased along by a gusty wind. I was working at the computer for most of the morning, checking out what had happened to the blog last night. It seemed from the email I got from WordPress that there was a glitch in the theme I use on the blog, either that or in one of the presets. I updated all the presets but the problem persisted. After I updated the theme, the problem disappeared. I'd visions of me having to call in the Web Monkey this morning, but all seemed well. I also took the time to post the first two sketches for EDiM in Flickr. I usually post them in EDiM in Facebook, but I think I'm personna non grata there after having an argument with the admins last year. Not to worry, Flickr it is this year and possibly Instagram too if I get the time.
After lunch we got ready and braved the weather to get to the car then we were off to East Kilbride. The rain was non-stop and sometimes it almost overpowered the wipers in their superfast mode.  The satnav chose a strange route to the vaccination centre and then dumped us at a T junction with a message to the effect that 'you have reached your destination'. I chose to go right and right was right for once, the sports centre that had been commandeered was just over the hill. Dropped Scamp off and went looking for a space in the tinycar park. Not one to be found. Drove into a housing estate across the road and found a space there almost right away. Less than ten minutes later I got the call from Scamp to come and collect her. Almost thirty minutes to get there and it was all over in ten! At least it's done now and we're almost covered. Drove back through the same heavy rain which is still falling as I write this.  More worryingly, driving through East Kilbride, the rain turned to sleet.  Thankfully we only have rain here tonight.
Back home I struggled to get three carrots painted in watercolour. Working with tube paint is totally different from using pans. The liquid, or semi-liquid paint is much stronger than the pans, it doesn't need scrubbed to break through the tough skin that forms on pans, but it does tend to be a lot more messy on the palette. I'll try to persevere with it for at least the first week. Carrots will be posted tomorrow hopefully.
There was no opportunity to get an outside shot today. I tried photographing one of Scamp's Grape Hyacinths on the back step. I was sitting inside, of course. I'm not that daft! This was about 7pm and the light had gone, despite the fact that sunset wasn't for another hour and a half. I gave up on that with grainy images. Finally, I chose to photograph one of Scamp's carnations, a cut flower bunch that sits on the window ledge in the kitchen. This was a 10sec exposure on a tripod at ISO 125. That was just an 'aide memoire' for me for next time. The resulting photo was the 5,000th I've taken with the Sony, since I got it last year!
Right, it's been a terrible day and I'm going to bed to wake refreshed tomorrow because tomorrow is Star Wars Day! No plans other than getting pictures done and photos taken. That will be enough, but a walk in the dry would be good too!