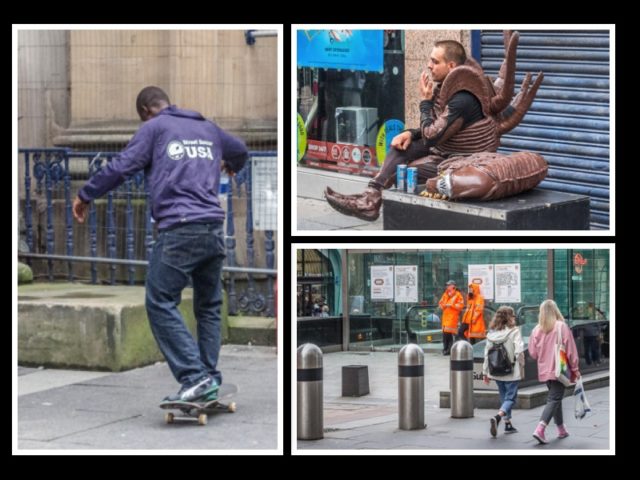 From start to almost finish today we've been labouring under grey skies. Occasional showers of drizzle made things even more miserable although it did brighten up in the evening for an hour or so before sunset.  We got the bus in to town in the morning and found some Spanish sun in Cafe Andaluz, always a bright spot on a dull day. Tapas and a glass of red made the day that little bit better.
Loads of activity in 'The Toon' with groups of Street Soccer players wandering around. George Square has been transformed for the event. I might drop in some time this week to see if there are any 'photo opportunities'.
Got some paint in Cass Art. It's times like this that you realise how much you miss the Art Store. Millers used to be an alternative too, but the half pan of paint I was buying was over 50% more expensive in Millers than in Cass Art. That's just greed.
Maybe I'm a traditionalist, but the move to paperless transactions does annoy me at times. It's nice to get a paper receipt that you can check while you are still in the shop. You can't do that with an electronic emailed receipt. My e-receipt today was for £9.90 and that was what I was charged in the shop. The itemised bill was for:
Liquitex Ink 30ml Carbon Black £4.95
Liquitex Ink 30Ml Tit White £4.95
Total £9.90
What I actually bought was:
Liquitex Ink 30ml Tit White £4.95
W&N Mauve Half Pan £4.00
Total £8.95
That's nearly a pound difference and I'm a pensioner (shades of Grandpa Charlie). Where the Carbon Black came from I'll never know. Where the Mauve Half Pan went, I'll also never know. What a White Tit is, well, that's anyone's guess.
The moral of the story is, be a bastard sometimes, insist on a paper receipt and check it before you leave the shop. If there is a difference between what you bought and what you paid for, kick up a stink. Unless, of course, you profited from the error. Charlie Christie rules OK!