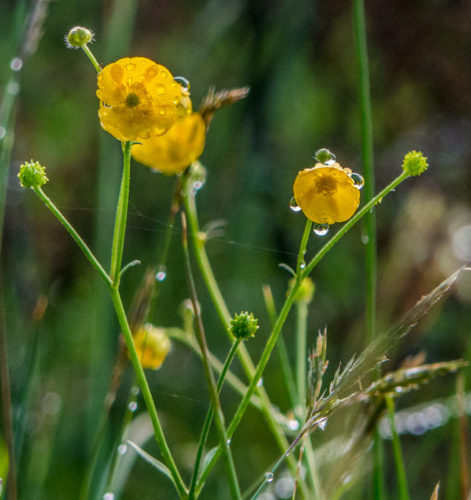 Woke around 5.30 and couldn't get back to sleep. Finally decided there was nothing else for it but to get up and go out for a walk.
Put on wellies to protect me from marauding beasties especially ticks and took a walk around St Mo's. Light was good, but there wasn't much wildlife about. I did catch a glimpse of a deer. but it was too far away and I was making far too much noise to get anywhere near it.  What I did get were a selection of contre-jour shots (against the light) of flowers and greenery coated in raindrops.  The rain had been very heavy during the night although it was bright, sunny and windy today.
Came home and had breakfast, then we headed off to Wishaw General to get Scamp's arm looked at.  Thankfully, there were no more moles to be found, so all was well.  We both had other commitments today, so we just drove home.  I chose to take the M8, just to make sure I could find the correct turn-off for Stirling.  We found it, but it sort of sneaks up on you with a very short slip road.
After lunch I had a coffee date with Val and Fred.  Apparently it's too late for us to launch the Auld Guys Party for the General Election tomorrow, but if we had, I'm sure we'd win.  Our party pledges include free beer for the over 65s, paid for by the under 65s.  My revolutionary new voting system where the winner wins and the losers have to work for a living was unanimously carried.  Anyone found or admitting to lying in their promises (present company excepted) would be summarily executed.  Oh yes, and free coffee for all.  What's not to like there?
Went to beginners Salsa tonight to support Irene who was taking Jamie G's class.  Overall she did a good job, once she got her timing sorted and started shouting out the moves.  She'll do well once she gets a bit more experience in this teaching game.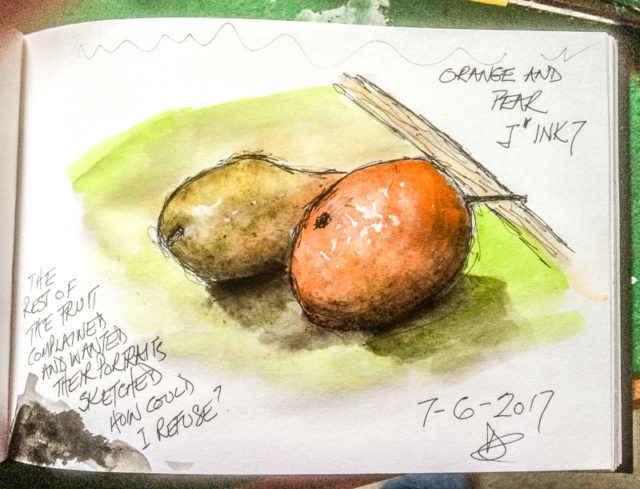 Today's PoD is Buttercups, the gardener's delight and today's sketch is another ink / watercolour sketch of fruit.  Pear and Orange this time.
Tomorrow the rain is coming, although our wee old weather station is predicting sun.  I think that's unlikely, but we'll wait and see.