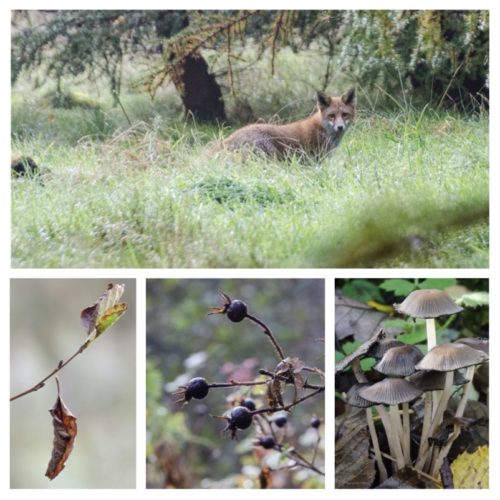 Up and out fairly early this morning. It was light and blue sky was beginning to show and it was before 10am which is pretty good for me.
Wandered over to St Mo's wearing my old corduroy trousers which, being brown, don't show that they are clabbered in muck! I'd put the Sigma 105mm macro lens on the Nikon, not expecting to see any deer because they'd start grazing around daybreak when I'd still be snoring. Just entered the pine woods when I spotted movement at the bottom of the hill. At first I thought it was a young deer, then I realised it was quite a large fox. It was so intent on jumping around, presumably hunting field mice an other rodents, it didn't notice me and this gave me time to change to the Tamron 300. I fired off ten shots hoping one of them would turn out before it heard/smelled/saw me. That gave me time to concentrate and get a better shot. I got three more shots before he/she was off, striding away out away from the trees. A couple of seconds later I caught a glimpse of his/her brush just visible behind an old stone wall going in the other direction. Now it could have been a different fox, but the one I photographed was quite large and therefore probably quite old and sly. Fly as a weasel … or a fox! I guess it was the same one, loping off in one direction and then running back the opposite way to put me off the scent. Whatever, those were the last shots I was going to get of a fox this morning. I just hoped the Tamron had performed.
Didn't see anything else of much note all along the walk through the deciduous trees, although I did see some interestingly shaped fungi. The fungi reminded me of some of Charles Rennie Mackintosh's architectural roof details. Could that be where he got his ideas from? Very Art Nouveau. The rest are just macro shots of bits of plants. I like them, but I don't expect anyone else to.
In the afternoon Scamp decided to finally take the secateurs to the sweetpea plants that she'd lovingly grown from seed. They had provided posy after posy of flowers to brighten and scent the livingroom. The front garden will look quite bare now that they are gone. That gave us a reason to go out this afternoon to take some garden waste to the dump. Of course we should be putting it in the Brown recycling bin, but only when the cooncil decides that it can afford to buy some for us! Hell may freeze over …
Scamp was getting fired up to go to her Witches Disco Party tonight when I got an email from DPD to say that the phone would be delivered on Monday. While I was making my dinner tonight, after Scamp had left, I also got a text from the Vogons to say that someone would phone in the next half hour. Really, the Vogons must be strapped for cash, I could hardly make out a word the poor girl was saying. What it amounted to was that she was "Very, very, very, sorry". There were probably a few more 'verys' there, but she did explain a few things and I did keep her on the phone for about 20 minutes before I finally acceded to her request to close the complaint. Hells Bells, the Vogons had kept me waiting for a week for my phone. I could keep her waiting for 20 minutes. That said, she was as good as her word and sent me a text later with confirmation that the phone would be delivered on Monday. She also confirmed that it was a new handset, not a second hand one as I suspected it might be. You have to be careful dealing with Vogons, as I've found out.
Dinner tonight was an Ostrich Sirloin Steak. I'm not sure I'll have one again. It was a bit tough and not all that tasty. Bear in mind, though, that I was doing deals with the Vogons while I was eating it.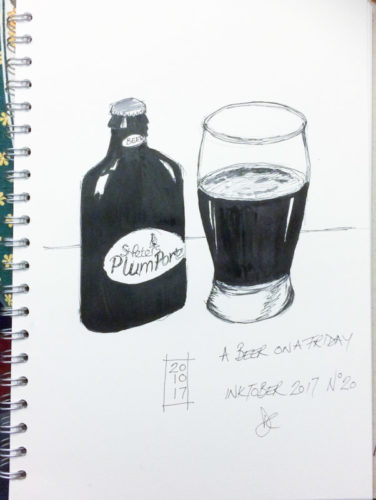 Tonight's sketch is of a bottle and glass of St Peter's Plum Porter (an alliterative stout). Very nice it tasted too.
Tomorrow? Well, it depends when Scamp arrives home and what state she's in au matin!