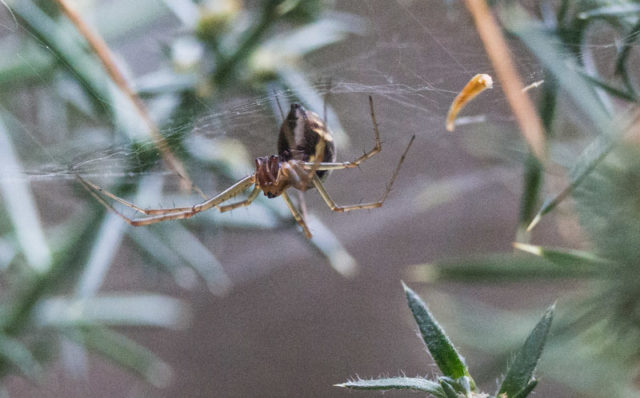 After a particularly lazy start we drove to Stirling. It had been a fairly bright morning, but as I stepped out of the front door, the first drops of rain fell.
That's the way it continued all day. Lunch was in the poshed-up Indian Cottage. Well, it's now got cloth table covers and cloth napkins, but the food, thankfully, was just the same. There were a few additional items on the menu, but we are creatures of habit and pick the same selection every time. Prices increased to cover these additions, of course. Still, the lunch was good and Scamp asked for a 'well-done' naan bread and that's exactly what we got.
Wandered round the depressing Thistle Centre, now partly closed off for some reason not disclosed at present. Had a look in Waterstones, but their prices are undercut by Tesco, not to mention Amazon, but at least you can browse and see what's available and that's why I occasionally buy a book or two there.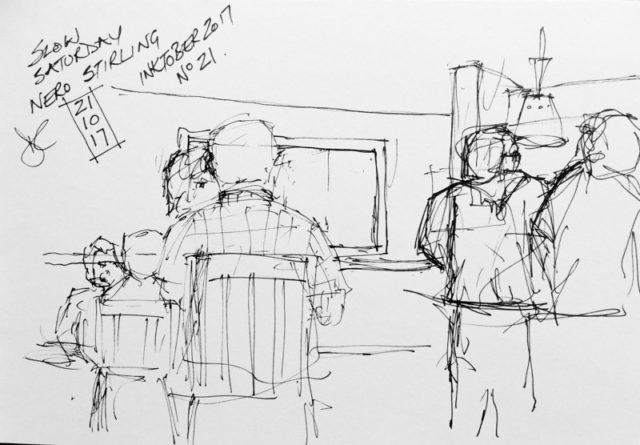 Cafe Nero was our next stop for a coffee and a chance to watch the world go by, or at least Stirling go past the window for half an hour. While we were sitting I got this sketch done. I realise it's quite light and not very detailed, but I like it for that alone. Next, Waitrose for more 'messages' before the drive home.
There was just enough light when we got home for me to do a recce of St Mo's for a photo opportunity. The only thing worth shooting was a spider building its web, so that would have to do.
Attempted to repair some of the rips and tears in my old jeans with the sewing machine tonight, but I think to be realistic I need one of those embroidery feet. It's like a normal foot, but it does embroidery. I'm sorry if you don't understand, but you really have to be a machinist to fully comprehend the details of this skill. In other words, I haven't a clue.
Tomorrow? No idea. Suggestions on a postcard please.