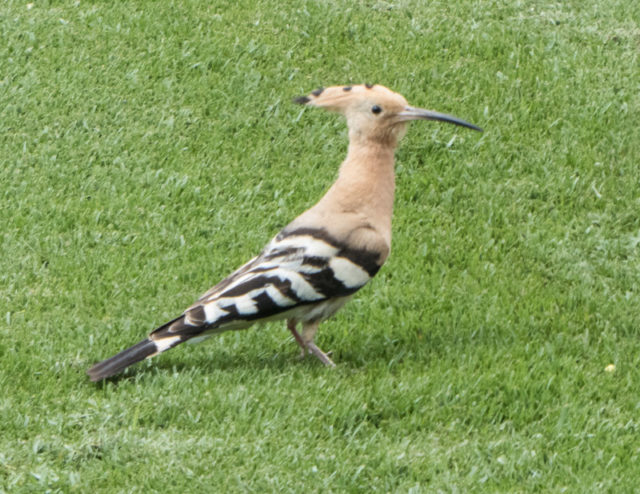 We'd decided that today would be a day of rest after yesterday's fraught day of travel and that's what we did.
In the morning we just sat by the pool. Scamp went for a swim but I decided to stay on dry land. My head was not my own. I hadn't slept well and apart from the excess of alcohol yesterday, I realised I'd had more than my fair share of sun without a head covering. Also, I'd been careful on the flight not to drink too much and the combination of all these things meant I was probably dehydrated and had slight sun stroke. That's why my head felt slightly woozy. The reason I'd not slept well was because I kept waking up hearing noises during the night. We eventually decided that because our room faced into the prevailing wind, the constant buffeting by that strong wind was causing the chairs to vibrate on the balcony. Not only ours were vibrating, everyone else's chairs and tables were doing the same thing too. Thankfully in the afternoon, somebody realised what was happening and the chairs were removed into the flat or stacked in such a way that the noise was eliminated. That was a great relief.
Saw a Hoopoe in the gardens of the resort and amazingly it let me get quite close. It made PoD. Haven't seen one here before, in fact the only one I've seen before was in Puerto Rico in Gran Canario about 10 years ago.
In the afternoon we went for a walk as far as the small strip of shops just short of Caleta De Fuste. Walked back along the new walkway.
Later in the afternoon, I went for a walk over to the wild side beyond Elba Sara. Got some photos of the camels walking to their overnight accommodation and also some shots of a curlew.
Show tonight was a music quiz which didn't interest us and shows the quality of the entertainment in this hotel.
16,179 steps 7.3 miles today.
Tomorrow we may get the bus into Puerto del Rosario.