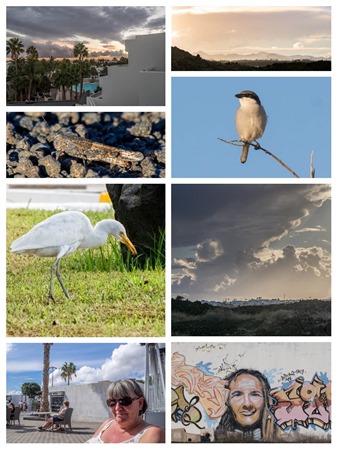 A more relaxed morning than yesterday! Unfortunately it was still raining. Just a shower we told ourselves but the sky gave a lie to that. Breakfast was the usual holiday hotel fare and of course we had too much of everything. Notables were the big slab of butter you could cut for yourself to spread on the bread you also cut for yourself. Butter was white and unsalted and also quite delicious.
After breakfast the rain was going off so we waited a while and then headed off in the direction of Puerto del Carmen. It's a fairly long walk and the weather was improving so we took our time. Our objective today was to find the cheapest bottles of Gin and Tonic. Although we are all inclusive, it doesn't go wrong to have the makings of a G&T for sitting on the balcony watching the world go by. The hotel provides us with as much drinking water as we want, free of charge, which is an improvement on some places we've been to. WiFi is also free, but only in the reception and only for two devices at any one time. Not a real drawback. To get back to the walk, we wandered down the road checking prices as we went. Stopped for a beer in a wee roadside bar. Checked that a really good Asian restaurant we'd been to was still there. Usual holiday stuff. Then we walked back, and it was getting real holiday hot now. Forgot to get the gin and were appalled at the price they wanted for it in Hyperdino (usually the cheapest, so we hadn't checked it). I volunteered to walk back to the cheapest shop to get some and also some tonic. Finally arrived back, just in time for lunch. We were a bit more modest in our lunch selection, really just a salad.
After lunch, Scamp went to sunbathe and I went for a walk over the rough lava rocks to get some photos.
Booked dinner in the Asian restaurant in the hotel for Monday as Saturday and Sunday were fully booked. At night we waited for a while for the Flamenco show to start, but gave up on it after a while. Had a drink in the lounge and then went back to try again. The show is supposed to start at 21.30. At 21.45 they started the presentation of the awards of the day for the Kiddies Club. That was supposed to happen at 20.30, so it looked like they were running at least an hour behind. We, or to be more exact, I couldn't be bothered waiting that long, so we headed for bed. Scamp was keen to demonstrate that she, as Genghis Pathfinder had discovered a faster way to get from the main building to the room and, for once, she was right. Full marks for Pathfinding, Scamp.
Less food tomorrow and hopefully some sunbathing with the possibility of a swim too.