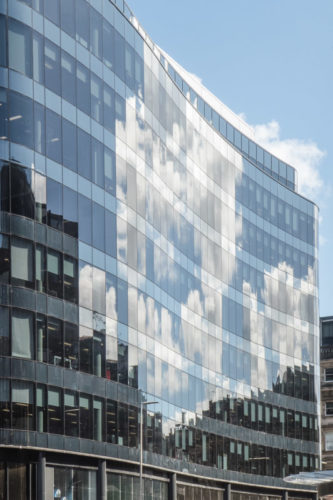 Flânerie: Aimless strolling or lounging; idleness.
Sounds about right. I got the bus in to Glasgow and go to see a photography exhibition Steven Berkoff: Gorbals 1966. It was a really interesting exhibition. All monochrome prints of the Gorbals and from a time when I was just starting to take an interest in photography. Also from a time when I started work. There was a picture of one bloke walking past a bar with a wild head of hair. It could almost have been me. I'd never set foot in the Gorbals, and he looked a few years older than me, but it could almost have been me.
On my way down from the bus station, I took some shots of buildings and stuff that I found interesting. That's what's good about going in yourself. You have time to take what you like, reject what you don't and you don't feel that you're holding anyone back. No need to go shopping if you don't want to (I didn't want to today). Most of the shots I took were buildings, but I did stray into the Merchant City Festival area on the way back and grabbed some photos of the goings on there. PoD went to the shiny glass building on Queen Street, or to be more accurate, the reflections of clouds on that building. Every time I see it, I see something different.
With a few photos in the bag and the inspiration of those old photos I got the bus back. While I was waiting this big loud english girl came along pushing a pram and with another one in tow. Then her dim looking partner brought another one along. She sat down and the inevitable phone came out. Then she started swearing at the phone about some "stupid fu$*in' bitch" who had sent her an offensive message on Facebook and then immediately blocked her and how she couldn't then tell her exactly what she thought of her. The noise level got really high and then the kids started crying, but she didn't attempt to tone it down or pacify the kids. She just kept ranting on. Poor bloke, I thought. We've only got to put up with that for ten minutes, he's got the rest of his life to face that. Luckily they stayed downstairs while I got upstairs and into the front seat so I could drive!
Scamp was working in the garden when I got home. We lifted the small pot of potatoes and only got 370g which was well down on the first lot. We think the problem was that the plants were too dry. Still, they tasted fine in Scamp's Chicken with Rats and potatoes.
Tomorrow is to be much like today, dry and partly sunny. We may go out somewhere in the afternoon.