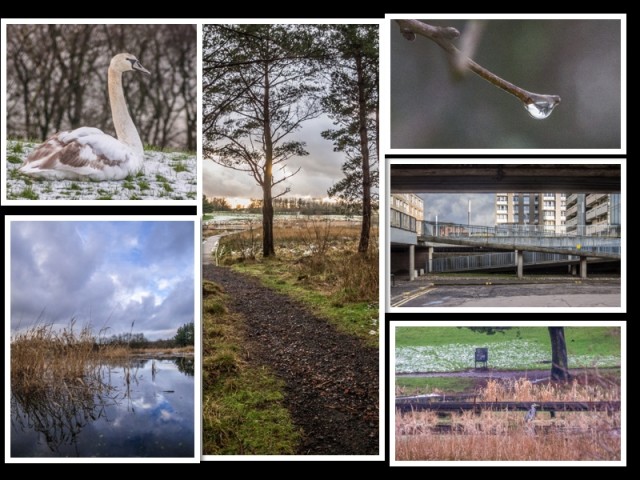 Forty three years ago today the weather was much the same. There was snow on the ground and it was cold. Two young folk, one 22 and one just 18 repeated their vows and became man and wife. How their lives have changed.
Today we took it easy. We had intended going to Edinburgh, but it being the middle of the week and with the prospect of more snow on the way, we decided to cut our losses and go to Glasgow instead. Rather than suffer the long bus journey through the wilds of Moodiesburn and Muirhead, I offered to drive. We eventually got parked in the third carpark we tried, despite the electronic signs telling us that there were spaces in the other two (they lied). Walked down through town me looking at a couple of cameras on the way, but still undecided which or even if I'd buy if it came down to it. Just like a girl can never have enough shoes, a photog can never have enough cameras. Decided on Browns for lunch and were mightily disappointed in the lack of flavour from both our meals. It's feels like they have a reputation now, so they don't have to try so hard. I think we'll try somewhere else next time, but it's a shame when it was a celebration meal and we rejected a few good restaurants before opting for Browns. Maybe it's something to do with the name "Browns": ordinary, nondescript, boring. Sort of sums it up really.
Went from there to the Art Store and picked up a couple of small Pink Pig sketch books and a wonderful bargain of a watercolour box reduced from £79 to £25!! Unfortunately, as I guessed, the Art Store is closing for good at the end of the month. According to one of the assistants, "the company is kaput". Short term bargains for artists, but long term loss for art in Glasgow. They will be sadly missed.
After we came home, the weather brightened up and I managed an hour in St Mo's just walking in the snow taking shots mainly with the 9mm. Some of the results are above. No plans for tomorrow, it all depends on the weather.