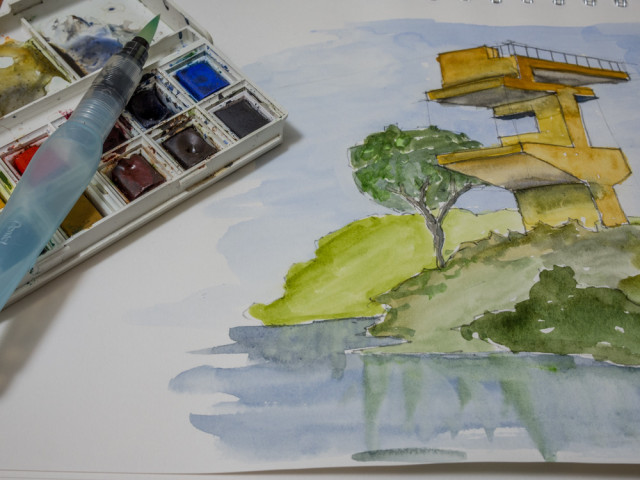 Today we did it. We got up and went out to find some exercise. To be honest, it was such a terrible day, the gym sounded like a good move. I may regret it tomorrow, but for today, it felt good to do some honest exercise.
All that exercise needs food to fuel it, so we went directly to Muirhead where the award winning butcher has his shop. Jic, we may have found a Scottish butcher that's the equal of Chapman's. Bought a fair load of meat and Scamp bought some fish. Even better, she got a haggis pie for lunch and I got a bridie. As I said at the start, exercise needs fuel. The fuel tasted fine. Almost as good as petrol does to a Crojian (probably only understood if you were brought up in Cumbersheugh)! After our low calorie lunch, we didn't do much. The rain had been torrential when we left the gym this morning and it wasn't getting any better as the day progressed. For a while I tinkered with that Nexus I was trying to do CPR on a week or so ago, but still no luck. What I did find was a fairly probable sounding explanation from a supposed IT specialist on a Nexus forum. Long story short, it's a hardware issue that can't be fixed at home. It would, of course, cost more than the value of a new Nexus to repair it. This time it goes into its pink folder and that goes into its poly bag and it goes back to its owner marked BER (Beyond Economic Repair).
Couldn't get out to get a photo today, so I'd decided early on that today was a still life. Then, look, I even managed to include some architecture. Not real architecture, but straight out of my imagination. Last week I'd passed the Art Store in Glasgow and noticed the 50% off sale. I wasn't greedy (for once) only getting a couple of Pink Pig sketch pads. I really like the texture of the paper and Fred has introduced me to A4 pads. The combination of good paper and large pads are good to draw and paint on. Hence today's picture.
Had intended going to Embra tomorrow, but judging by the weather forecast, that may be postponed. We'll see in the morning.
By the way, Happy Anniversary to Hazy & N D'Ag.