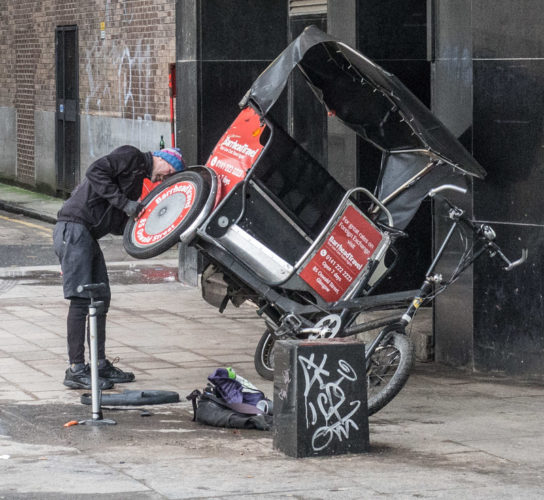 Today we took the train in to Glasgow
Scamp offered to drive us to the station to get the train in to Glasgow. The 'leccy train. Very comfortable and much quieter than the diesels. Also the seven carriage train was almost full. Everybody must be getting out of Embra with all the preparations for New Year celebrations. Not so Glasgow. It was heaving with punters and tourists alike. I was looking for a new pair of Bluetooth headphones so we marched straight into HMV to grab a pair before the whole HMV empire came down about our ears. It went into receivership the day before yesterday, whatever day that was and was the cheapest place for the Skullcandy headphones I wanted. Got the last pair on the rack.
Wandered along Argyle Street after that, then headed for Nero in St Enoch's shared a toastie and a cake for lunch. Outside I got today's PoD of a man fixing a puncture on his rickshaw. There used to be loads of these things in Glasgow, admittedly that was in the warmer weather, but I've hardly seen any recently. Just a fad that faded out, perhaps.
Crossed the road to Waterstones where Scamp bought me a late Christmas present which was a Times Sudoku a Day desk calendar. I like the way it's set out and the rhythm of the puzzles never changes throughout the year. It keeps me sane … just. Even better, the calendar was half price! Saw a book I had been looking for, but it was on sale in Waterstones for £17. Amazon have it on sale for £10. That's why the high street shops are closing. I'll miss HMV, but I can hardly remember the last time I bought something there (with the exception of today). Possibly we are cutting our own throats by our short sighted reliance on on-line stores, but a 40% markup is a bit excessive. However, I did get a chance to read a random page in the book, something an English tutor told us to do when I was at college, and it looked interesting enough. Even that I could have done easily on Amazon. The book is now on my Books Database in Notion, Hazy.
Caught the train back to Croy with just five minutes to spare. Scamp drove us home. Dinner tonight was my version of the Chicken & Chorizo with beans and tomatoes. It got a thumbs up. Even my attempt at garlic bread was a winner.
The rodents are going mad tonight. Maybe it's because I blocked up the holes in the front and back steps and they are locked in. I had hoped that they were out when I did it and I was locking them out. Perhaps not. The "Rat Man" is coming to Angela next door tomorrow and she promised to send him round to us when he was finished. We'll see.
The sound from the headphones was rubbish by the way.
Tomorrow is Hogmanay so we won't be going far I think.