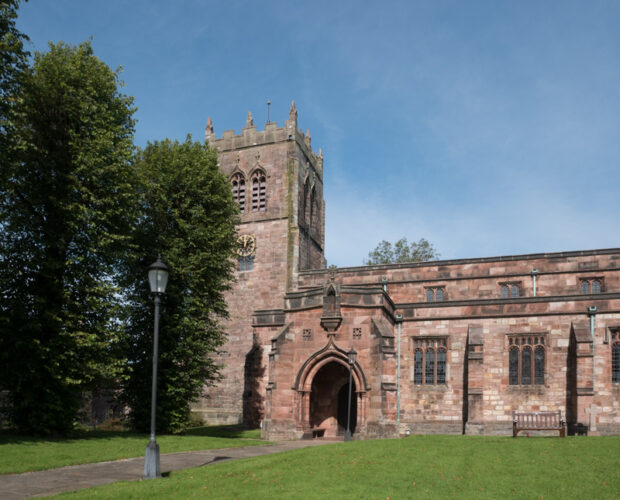 The other two were off climbing mountains, we were being tourists, in the sun.
Parked at the car park JIC had used on Saturday and then headed along the main street, which didn't take very long. There wasn't much to see. Walked back and had a look through the Cloisters, went through and had a look at the old church behind them. Took the path round the lawn and then exited on to the path that took us over Frank's Bridge. Don't know who Frank was, but he made a good job of the bridge. The air was full of the buzzing of bees in the bushes beside the bridge. A few butterflies too. Lots of ducks swimming in the River Eden underneath, but we didn't have time for ducks. Instead we were following the path we'd travelled a couple of days before, except …
Except, instead of turning right after crossing a bridge over a stream and climbing up, up, up, we turned left and followed the stream past pretty houses whose gardens ran right down to the stream. How brilliant that would be to have a stream at the end of your garden, until it floods, then it might be a different story. We walked on and took a left turn at what seemed to be the end of the village. That eventually took us round past the cricket ground back to Frank's Bridge. Took some photos of the ducks in the river under the bridge and watched a dog called Betty charging into the water and scaring the living daylights out of the ducks. I know this is boring, and means nothing to you, but remember whose blog this is!
Back in the town again it looked like there had been a funeral because lots of people dressed in black and the men with black ties had commandeered all the tables in the café Scamp wanted to have lunch in. Instead, we had a lunch in a Costa across the street. After a toastie and a coffee for me and a millionaire's shortbread and latte for Scamp we crossed the road again. Scamp bought a sieve for fishing out poached eggs (that's the best description I can muster) from an ironmongers. Then we found a deli where I got some marmalade that didn't taste as home-made as it was advertised and a couple of russets, plus some veg for tonight's risotto. Walked to the car, drove to the Coop and got some nice beer Lost Lager, plus other stuff, as usual when in foreign climes.
Drove home, to our home for the week. I'd bought a sim card for my old iPhone and spent a lost half an hour trying to get it to accept my credit card details to top-up Eventually I got exasperated and after checking with my bank that I hadn't been spoofed out of my worldly goods, I shut the phone down. Thank you 'Kenneth' from O2 customer help who did his level best to get me sorted out. Went outside into the sunshine and while Scamp read, I sketched Pinfold Cottage where we are staying.
Dinner tonight was Prawn & Pea Risotto, cooked by Scamp.
Tomorrow we are hoping to go back to the waterfall, but this time we're taking the more leisurely route.