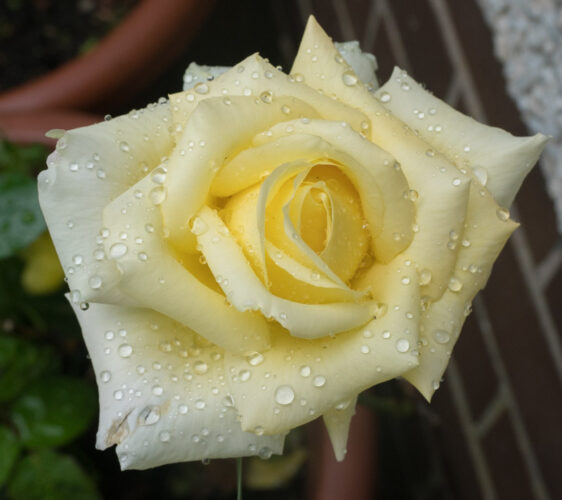 Just like anywhere else in the rain. Wet.
When we left the house this morning it had been raining and Scamp pointed out the Peace rose with raindrops on it. I took a couple of photos of it, just for the record. Now we're not so sure it is actually Peace, because that rose has pink edges to the petals and ours doesn't. We think there's a possibility it could be At Peace which is a pure yellow rose.
We drove to Larky to pick up Scamp's new lenses and her new glasses. Glasses are very swish. Bit lenses and patterned legs. She's not quite settled to them yet, but they will take a little time to get used to. No point in trying to get photos in the dull weather, but at least I had one in the bag.
Back home and after lunch, Scamp went off to get some food for dinner and I started to clear out he car. Who knew we had accumulated so much stuff in three years. Bags full of bags, cups sunglasses, wooly hats and gloves. You name it, we had it. We even had two tripods in the boot as well as two walking poles and a big umbrella. It took three trips to collect it all. I even hoovered the boot top, that's how tidy I was today.
After dinner which was house favourite Fish Fingers, Egg and Spaghetti, Scamp suggested I should print off the insurance documents just in case they were needed tomorrow. I'd printed of the first three pages and was just reading the actual certificate when I noticed the Reg was wrong. Instead of SG, it read XG. We're both sure I read the reg out correctly to the insurance bloke on the phone, so whether it was a bad line, a misheard 'S' for an 'X' or whether at his end it was a typo with 'S' and 'X' being next to one another on the keyboard we'll never know. It was too late to phone the insurers, so I'll have to make the call in the morning to get things sorted or else we'll have to put off picking up the new car until Friday. I don't think that will happen, I'm sure mistakes like this occur every day.
So, I will make no suggestions about what we are doing tomorrow, but we do have a PoD and it's the Yellow Rose of Cumbersheugh!