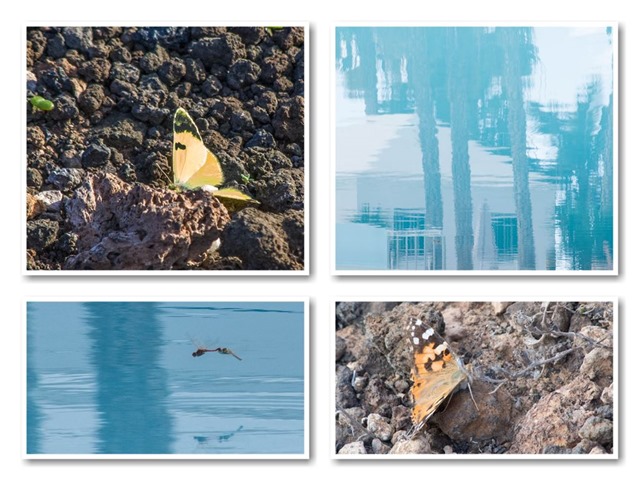 After the long walks these last two days, we both settled down to a sunbathing day today.  The furthest we were going to go was the pool, or should I say the pools.  The pool with the bar in it, yes in it, not just next to it, but in the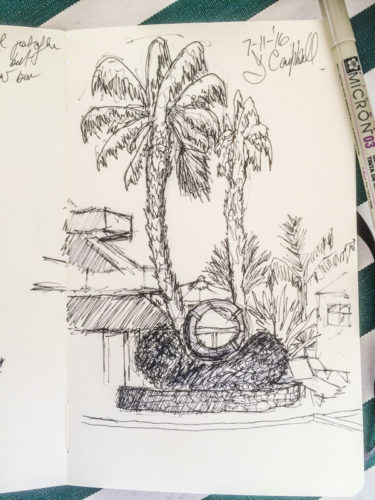 pool itself, which means that you can swim up to the pool, have a drink and swim away again.  Sounds like a recipe for disaster, but it all went 'swimmingly' today

   Both Scamp and I had a swim in the pool and when we both tired of this aquatic activity, we baked in the sun for a while more.  It was while Scamp was swimming she shouted to me that there was a dragonfly dipping into the pool.  It was actually a mating pair that was laying eggs in the swimming pool.  I don't think there is much chance of those eggs hatching any time soon.  If the chlorine doesn't kill them, the filters will grind them to a pulp.  Such a waste of time.  I got a fairly decent ink sketch done while we were sitting by the pool
We had booked for the Asian restaurant tonight and so we settled for a light lunch to protect our appetite.  After lunch it was back to the hard work of sunbathing again.
Later in the afternoon the sun had moved round and our sunbeds  were in shadow so we went back to the room and sat on the balcony for a while.  I got itchy feet and headed over to the lava rocks to see if I could capture any photos of  butterflies.  I managed a couple and that was my lot.
The Asian meal was delicious although it was a buffet and Scamp's not keen on food that's not piping hot, so she was a bit disappointed.  I thought it was all lovely.  My favourite was deep fried Dim Sum.  Scamp's fave was the Tuna – no surprise there.  We had intended going for a walk and possibly a drink after the meal, but when we left the restaurant we could hear a violin playing.  At first we thought it was piped music, but it turned out to be a live musician playing an electronic violin.  Very clever stuff and of course that put paid to any chances of a walk, so it was 'cooncil cocktails' tonight.  Like I said, the bloke was really good, playing classical, pop and jazz.  We listened for his full set.
After the violinist had left, we went to hear the duo singing.  Different duo tonight, different songs, slightly better mumbled English lyrics, but best of all, we got to dance!  We did one Bachata and one Salsa.  Not our finest, but better than nothing.  There was a German (?) couple a bit older than us sitting in front of us and they seemed to think we had done alright.  They seemed to dance Ceroc rather than salsa.
We actually watched the full show tonight – Best of Shows it was called.  More like Least Worst in my opinion.  Blokes with balloons up their jumpers seem to get a great laugh here.  Possibly a Teutonic sense of humour.  I think it was the show that put the tin lid on things.  We went back to the room and off to sleep.  No nightcap on the balcony tonight because we were both tired out after such a lazy day!