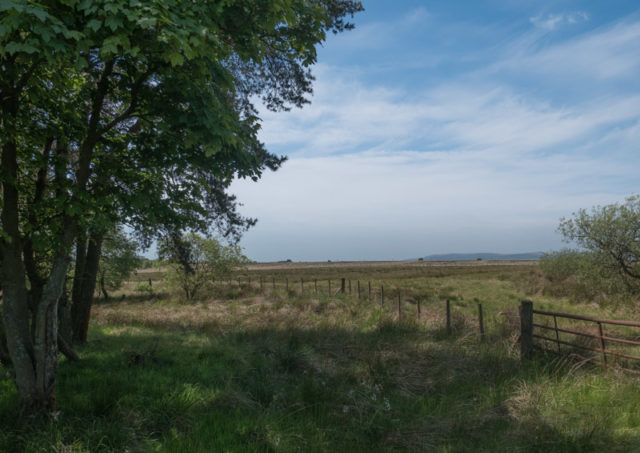 It was true, we were allowed to go out today. Nominally 5 miles, but who was counting.
We were very cool about it to start with, as you sometimes are when you're desperate to do something, but don't want to show it. Scamp did some washing and hung it out. I started my Sudoku and made some coffee. We watched a rather boring webinar from our man in Falkirk. We had a spot of lunch too. Moved stuff around the garden and planned some repotting. Eventually we just decided we had to go out. Somewhere … ANYWHERE!
Scamp suggested Fannyside, but we though we'd do a drive past the garden centre anyway. Again, playing it cool and saying that we'd maybe go there during the week. We drove up to B&Q, but the queue there was looooong, so we turned around and drove up the long way to Fannyside, up past Arns forest and round the top of the road. Stopped at the draw in by a stand of Scots Pines and just listened to the silence. Hardly a sound, hardly a breath of wind. We heard a cuckoo. First time I've heard one this year. It was miles away, but it was a measure of the lack of noise that its call came over so clearly from its perch about a mile away. Got today's PoD which just had to be a landscape. I've taken so few over the last couple of months that had become a thing to savour. Got a little macro of one of a trio of flies that had socially distanced themselves on a fence post.
Drove back by the moor road and then the unspoken agreement was that we were going to Calders garden centre. Scamp wanted pots and I wanted seeds and then it seemed churlish not to buy a couple trays of cheerful red flowers. Smiles on faces all around. Not all the shelves are full and the variety of plants is still a bit poor, but it was good to be able to browse around outside without a mask. Yes, we used them inside, but for a while, outside we felt like the world was returning to normal, the old normal.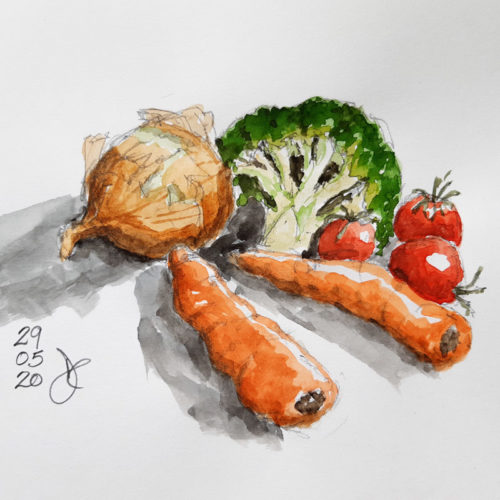 Back home I grabbed two carrots, three tomatoes an onion and half a head of broccoli, arranged them tastefully on my painting table and produced today's sketch 'Vegetables'. I was quite pleased with it. Really need to have a look at what paints I need as a lot of them are going down quite quickly. I should be able to get them from some online art shops.
Later it was dinner in the garden and a glass of wine to wash it down. Couple next door were having a noisy dinner with some of their relatives, but although I moaned about the noise, it was just ordinary folk letting off some of the steam they've been bottling up for the past couple of months.
We had our first taste of Scamp's "Westfield Gin Company"distillation. It was very nice. Reminiscent of Elderflower Gin. We only had a small sample, then we had to try it against a commercial variety just for comparison purposes!
All in all, a good day for what might be the beginning of the end of Lockdown and a really hot one. Tomorrow is to be slightly cooler which will be a good thing.