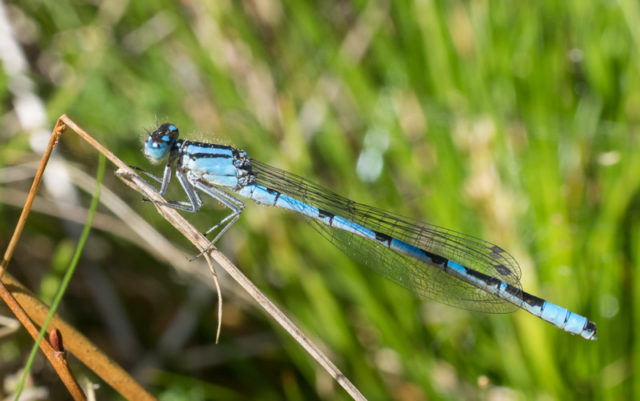 Out at around 7.30am because Scamp wanted a photo of her trio of azaleas and I had worked out that 7.30am would be as near as damnit the right time. It was … nearly. Took the photo and went back to bed.
Shock, Horror! No breakfast in bed today. Up before 8.30 and breakfast in the living room. Next, we'll be having breakfast at the table, or is that a step too far?
After breakfast we went for a walk. What's become our 'new normal' walk. Down around the football stadium and back up the hill. It's a good mile or so and is not too busy. Apart from joggers, I think we only passed three people today. If we'd crossed the dam we'd have been dodging the socially un-distancing hordes. It was a pleasant day with a slight breeze. Enough to cool you without feeling cold. When we passed the shops the queues were extraordinary. It was a Saturday and it was warm and there were no other kinds of shops open yet, so I suppose it was just the desire to buy something … anything! We didn't feel the need, so we didn't join them at this point.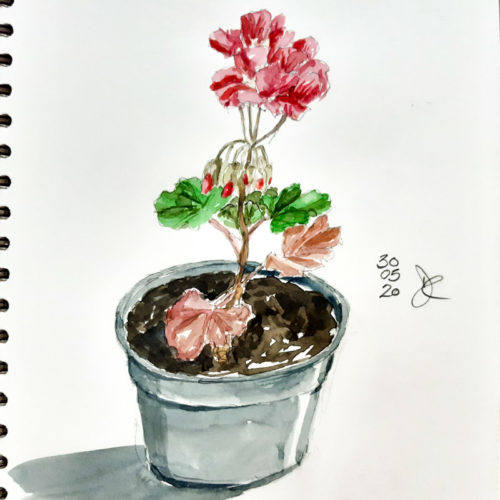 Back home for coffee and a plan for the day. Scamp wanted walk over and visit her sister after lunch. That would give me time to get today's sketch of a geranium completed with a bit of luck. Luck was on my side for once and, although not as satisfying as yesterday's painting, todays was 'adequate'. That's all, just adequate. I had just finished it and was sitting in the garden with a pair of bluetooth headphones on so I didn't need to listen to 'Brain of Britain' next door proving that empty barrels do indeed make the most noise, when Scamp phoned to ask if she should get a chicken for dinner. Apparently the queues from this morning had decreased significantly. I agreed that it would be good and walked down to the shops to meet her. We just had a basket this time, so bought more or less what we needed and no more.
Still a very pleasant day and much more comfortable than yesterday. I didn't think the azaleas would cut it as PoD so went out to find some beasties. Scamp went out to sunbathe. She has this enviable ability to tune out distractions when she's reading because 'BoB' was still droning on to anyone who would listen and also to anyone who wouldn't.
Managed to get a clean shot of a Common Blue damselfly. Isn't it a terrible shame calling anything 'Common'. We humans are so superior in their outlook aren't we. Well humans in general are, but not me. I'm generous to a fault. I wouldn't call anything or anyone 'Common'.
Dinner was brilliant. Roast chicken with roast vegetables and potatoes baked in the oven, followed by real fruit cocktail, not your common tinned stuff!
Tomorrow, weather wise, we are expecting more of the same, but after that there may be rain!! Oh No! But the gardens need the rain.