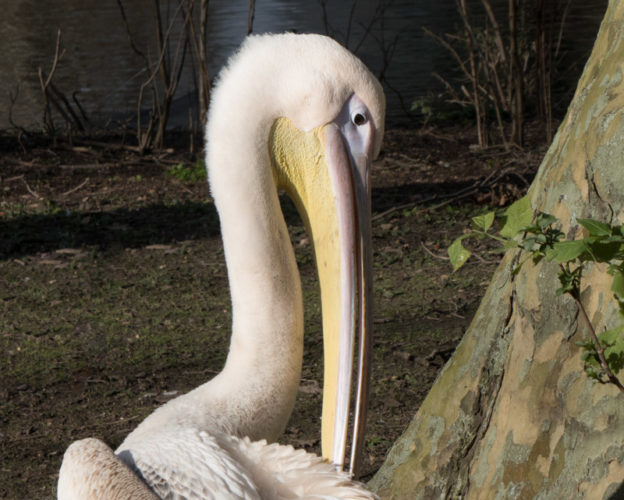 Today we were going to the Tower of London, except …
When we'd walked the mile or so to the train station I realised that neither of us had the details that Neil had so kindly typed up for us. Time for a change of plan.
We'd still go in to London, but instead of visiting the Tower we'd go for a wander and find somewhere new to visit. To start with we'd find a coffee shop. Not as easy as you'd think in London. Loads of coffee shops, but none where I'd deign to actually drink their coffee. Eventually we found Westminster Bridge and along from that we found St James' Park which looked promising on another beautiful bright sunny day. Loads of other folk seemed to find it interesting too and most of them were Italian or French or Spanish it seemed. Hundreds of them, maybe even thousands, and all of them were watching the pelicans or having their photo taken with them. Pelicans in London? According to Wikipedia "Pelicans have been a feature of St James's Park since 1664 when the Russian Ambassador presented them to King Charles II." Who knew? Well, apart from Wikipedia.  A picture of a pelican made PoD
Further on, we went to look at Mrs McQueen's big hoose, but I don't think she was in. Either that or she was hiding from the hordes who were gazing intently through her railings hoping to catch a glimpse of somebody royal. Either that or they were waiting to see the changing of the guards. I don't know why they're changing them anyway, they seemed alright the last time I saw them on the TV. We walked back along the Mall and found a coffee shop in Waterstones where they sold a decent latte fro Scamp and some burnt water for me. Lovely Danish pastries though! After that we went to Covent Garden where we heard some dodgy opera singer and I got a tee shirt.
After searching for somewhere to eat we settled for a pub lunch. Macaroni and (a ton of) Cheese for Scamp and an apparently prize winning pie for me. The pie casing was lovely, as was the veg, but the meat was tough. Walked along the banks of the Thames and caught the train back. Maybe we'll visit the Tower another day … with the directions!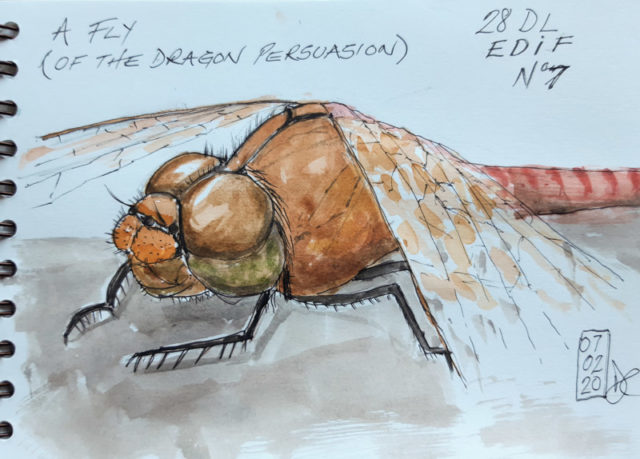 Today's topic was "Fly" and my take on it was a fly of the Dragon persuasion.