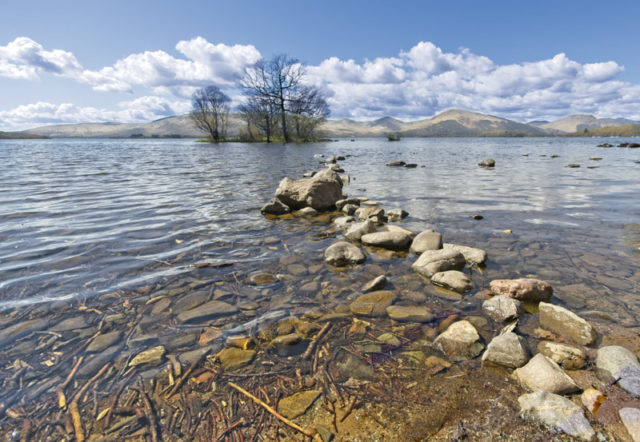 I got up at just after 8.30 this morning to make the breakfast and to fire up the oven because it was sourdough baking time again.
Yes, I'd made the leaven on Saturday and used it on Sunday to make the dough. This time I thought I'd made a stiffer dough, but when I left the dough to stand ( you don't knead sourdough with this recipe, you fold it and then allow it to stand for half an hour or so) it became quite wet and sloppy again. That said, it had been rising happily overnight in it's cane basket and now looked ready to bake, so I whacked it (gently) on to the pizza stone that came out blazing hot from the oven and it promptly slumped down again like a balloon that was blown up a week ago and is now a bit slack. Oh well, nothing ventured etc. I hacked into the top of it to give it space to rise and put it into the fiery furnace for about 45 minutes. When I took it out and tapped the bottom it sounded 'toom' which was one of my mum's words. It means empty or hollow. Try using it some time. Anyway, a hollow sound is good.
With my loaf cooling on the rack, I started to plan the rest of my day. It was a beautiful day too, Blue skies all round and a temperature that was just entering the teens. This was a Gems day, so I thought I'd go a run for a change and chose Millarochy Bay as my destination. After sharing the first cut of the loaf with Scamp, I used it to make up a packed lunch and with a flask and the makings of coffee I got in the car. Set the satnav for the postcode of the campsite near the bay and off I went. I followed the directions until I reached a sign that said 'Road Closed'. Little was I to know that would be the first of many. Made the recommended detour and after being stuck behind a slow moving truck full of asphalt, no doubt going somewhere to fill in potholes, I took the turning to my next 'Road Closed'. Found the detour again and was almost at my turn off when I came across a third 'Road Closed'. This time my turn off came just before the road did close. After that it was plain sailing and I arrived at Millarochy Bay just about fifteen minutes after the satnav had initially predicted.
The carpark was very, very busy, but I was lucky enough to find a free space. Had my lunch looking out at a view similar to the PoD you see at the top of the page. Went for a walk and got a few photos, well just over fifty, but who's counting. It was still a beautiful day and it was getting even warmer. Unfortunately it was soon time to go so I had to pack up and head back. This time the satnav took me out towards Stirling and although it was a greater travelling distance, it was on much faster roads, much wider roads too.
Started processing the photos in Lightroom and also in ON1 which I bought last night. It's not nearly as bad as I'd initially thought and is really very adaptable. You get lost in it very easily with all the options and variations available. Some of the effects are a bit tacky and probably not much use, but some are very useful. More on this app as I dig deeper in to its potential uses.
Salsa tonight was a bit underwhelming. Too many leaders in the 6.30 class so I helped out in Will's. Jamie's was disappointing. Too many obscure and pointless moves now. Just because they are weird, they aren't necessarily wonderful. Salsa moves have to be stylish or adventurous. The ones we've been doing for the last month have been neither. No Salsa next Monday as it's a Bank Holiday and probably none for us on Wednesday because he won't be taking the class. That may mean Shannon which would not be good or perhaps Irene and Andrew which I'd rather avoid.
Tomorrow Scamp's car goes in for MOT, so we have a free day after we drop it off.
Oh, one last thing. We were driving home and came to the traffic lights at Charing Cross in Glasgow and noticed a sign saying M8 Closed Eastbound (that's us). Oh no! The curse of the Road Closed rears its ugly head again. When the lights turned green, everybody seemed to ignore it, so that's what we did too and there were no road works to be seen. Probably somebody's idea of a joke, just to annoy me!