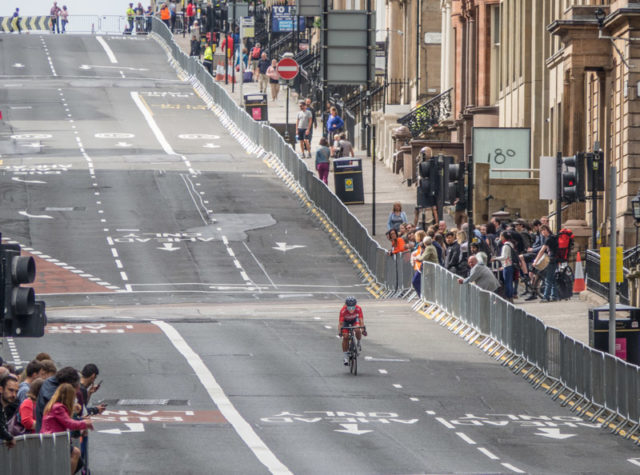 Today we tried to do as the CITRAC signs ordered and Use Public Transport.
Well, we would have used the nearest public transport, the slow X3, but it didn't want to play today. Stood waiting and waiting before eventually giving up and walking to Condorrat. There we got the fast X something else which whisked us into Glasgow and we arrived there earlier than if we'd caught the missing X3. Went for a coffee and a wee pastry in Nero to fortify us for the day ahead, not knowing when or where we'd have time to eat again. Actually it wasn't nearly as desperate as that. We were going to the Merchant City Festival which kicked off on Friday night, but was running at full steam today. On the way we had to cross the cycling circuit of the road race for the European Championships. Today it was Ladies day. It's not hard to find the Merchant City, even if you're a tourist. You just follow your ears. The sound of samba bands even drowned out the noise of whoever was on stage in George Square. Music, music everywhere, but thankfully no 'Bastard Drummers' or student pipers busking. Real music for a change.
First band we heard was the enthusiastic Katumba Salsa Band from Liverpool. Then, after wandering around we chanced upon the Pulse of the Place children's band from Edinburgh who played a spirited samba version of the Doctor Who theme. Time for food again and Scamp got some churros while I waited in the queue for a margherita pizza. Both were excellent. The churros were fresh out of the deep fat fryer and covered in sugar. The pizza straight out of the wood-fired pizza oven on the back of a wee Italian three wheeler van. While we ate we listened to the Blast Furness Carnival Band. A slightly more mature group of individuals from Ulverston, dressed in striking red and black outfits. They were playing New Orleans jazz. Along the way we had bumped into Mr Mackintosh celebrating his 150th birthday and looking very spritely for his age. He was accompanied by one of his associates, both of them sporting what looked like extremely false moustaches. His wife was also with him (without moustache, false or otherwise). For some reason Chic was carrying with him a facsimile of one of his famous chairs and was encouraging people to pose on it. We rounded off today's visit with an amazing performance of D-Construction by a French 'modern dance group', Compagnie Dyptik. Some fantastic moves, jumps and leaps through space, all done with quite intimidating eye to eye contact and audience participation. Absolutely mesmerising.
After that we walked back through a eerily deserted looking Glasgow because all the roads had been closed for the road race. By this time the race was in its final stages and that's where today's PoD came from. One lone cyclist on the long descent of West George Street.
Got the X3 back home, yes they were running. Then had sausages, home-made beef burger, accidentally deconstructed beef olive (which will be forever called beef Clive in this house – long story) and a baked potato for dinner. Scamp had a parsimonious baked potato and beans. Followed by Scamp's pineapple sorbet. After our usual Sunday coffee (with alcohol), we inspected the two hundred odd photos and videos and reflected on a good day.
Tomorrow, Scamp is booked for coffee in the morning and again in the afternoon. I'm going to fit the pedals on my bike and the cleats on my shoes and hopefully take the bike out without falling off!