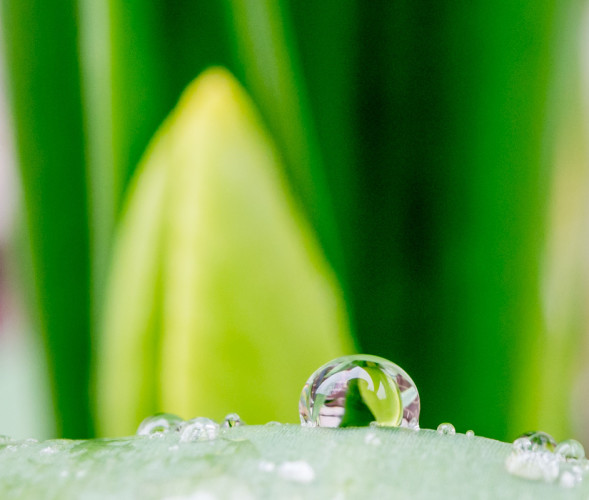 It has rained almost all day, but that's ok, because it produced today's PoD which is a water drop of the curve of a tulip leaf with another tulip leaf or two behind.  Taken with the somewhat bypassed E-PL5.  That shouldn't be the case, because the E-PL5 is an excellent camera.  In some ways it surpasses the E-M10 in that the rear screen has even more flexibility than the '10's and the EVF can flip vertically to allow the camera to be at ground level with the photog looking down through the viewfinder and out through the lens rather than lying prone to get one eye to the viewfinder as is the case with the '10.  Without the EVF, it's just that little bit nearer too which is a great advantage for taking candid shots which I occasionally do.  I used the kit lens for the above shot and it makes a fine fist of the job.  For some reason, the '10 doesn't like the kit lens and produces dark blobs which look like dust bunnies but aren't.  I've checked with my sensor checker lupe and the sensor is clean.  The lens also had a problem with the aperture leafs sticking which caused the '10 to overexpose occasionally, but the '5 hasn't shown either of these faults so far.  I'll keep a weather eye open for problems in the next week or so.
Like I said, it was a wet day today, and as is Monday which is Scamp's day for Gems, I made myself scarce this afternoon and did a little bit of work in the gym and then had bit of a swim and then 15 minutes in the sauna to round off my session for the day.  Pool was very busy, but that's to be expected with the school Easter holidays on.
Hoping to go to salsa tonight and maybe try to remember what we did in bachata last week.  Hoping for better weather tomorrow and the chance to get my bike out.