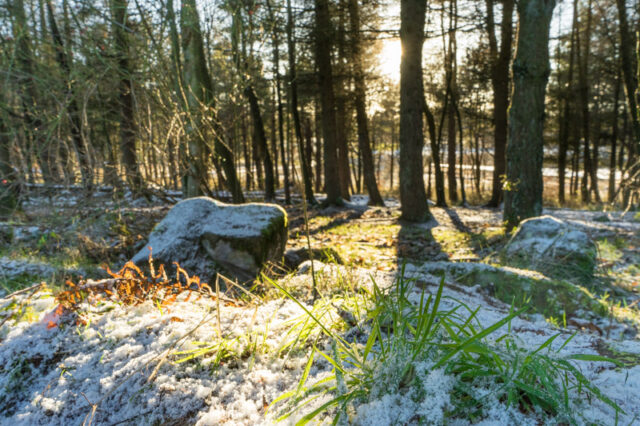 Woke to another dusting of snow. A light dusting this time.
Fed the birds to keep them happy and tried to defrost the birdbath, not that any of the birds would have been suicidal enough to attempt a bath in this weather, but they might appreciate some liquid water to drink. Lunch was Scamp's savoury slice which warmed us up on a decidedly cold day. After that and a cup of coffee we felt it was safe enough to go for a walk to the shops to get today's dinner. Which was to be Neil's Italian Chicken.
On the way back I took a detour round St Mo's in search of some beautiful sunny weather and some snow. I found both. The paths were slippy and I didn't have my YakTrax with me, so I was trying to be careful and managed not to fall or even to slip … very much. Got my photos and even made my first ever video with the Sony camera. It was of a crow rolling in the snow! I'm guessing it was getting the snow crystals into its feathers to help it dust off the mites that were harbouring there.
Back home we spoke to Hazy who was eager to find out all about yesterday's mysterious visitor. I was forgetting that Neil D had already performed the "cotton bud down the throat" trick with the same gagging response we had.
When we came off the phone we found that the washing machine was stuck at the spin cycle. It was still displaying 12 minutes to go, but the Spin light was flashing. Also there was a fair amount of water in the machine. We managed to get it to drain some of the water out and Scamp removed the wet clothes and took them up to drip off in the shower. Useful things showers! I found the drain pipe and drained off the remaining water, then tried to remove the pump filter. It wouldn't budge. This machine is about 20 years old and I've maybe once needed to remove this filter. Either it is baked in or there is something inside blocking it. My money is on the second one and if I'm right, it's money, some coins, that are doing the blocking. The only way to get into the filter is to turn the machine on its side and remove it from the bottom. Now that's easier said than done because if I recall correctly there is a big block of concrete that acts as ballast for the rotation of the drum and moving that is going to be a job for a JCB. Scamp said a firm NO to that course of action. We tried the machine again and Lo and Behold, it worked. Not at its best, but we did get all the washing spun dry(ish). How long it will work before the aforementioned blockage returns I don't know. We spent a good half an hour looking at prices and reviews of washing machines, then had a shortened version of the dinner we'd proposed, namely fried chicken with potatoes and broccoli. Then G&Ts all round.
Watched The Serpent on TV. Weren't impressed, couldn't be bothered with all the jumping back and forward through time so junked it. A bit of a wasted day, but it was good to talk to Hazy and I enjoyed both of my walks. PoD was a shot looking through the woods in St Mo's.
Tonight a temperature of -7ºc is predicted. It's already down to -6.5ºc, so it looks like the prediction may come true. Thankfully it may rain on Saturday or Sunday. When is the last time I've made a statement like that? I don't think we'll be going far.