The red car lives to fight another day!
Out at 8am to take the Red Micro to the garage for MOT. Since we'd driven down to the garage, and had nothing else planned for the rest of the day, we went for a walk, since it was such a clear, dry morning. We walked down and round the stadium, then back home for breakfast. Like Scamp said while we were out, we should do this more often. Lie in bed reading on the cold, wet mornings, but on decent days we should be out and enjoying what little sunshine we get now that the days are shorter. It's a plan. Whether it turns into action is still to be seen.
After breakfast we did sit around for a while and basically 'footered' for what was left of the morning. Just after lunch we got a call from the garage to say that the car had failed MOT because of a broken coil spring on the driver's side. I'd guessed that might be the case, because I'd noticed during the week that it seemed to be listing a bit to that side, and said as much to JIC yesterday. Not too expensive to fix and they had one in stock, so it would be done today. With that dealt with we went for a walk around St Mo's with a bit of a spring in our steps. Because the light was good and also because the car would be fixed today, we went round the pond twice! On the way back I grabbed today's PoD of leaves beside the path to the Adventure Playground. Later in the afternoon we paid our dues and picked up the car. MOT'd, repaired and serviced. Scamp had a smile on her face. We drove home in the dark. First time driving in the dark since about February!!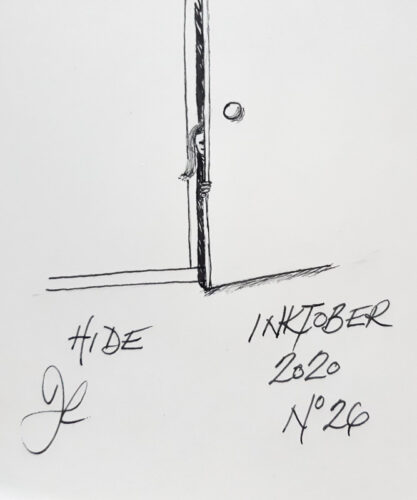 Sketch topic today was "Hide". I was tempted to put in a signed blank page to the effect that everyone was hiding, so I couldn't draw them. Instead I drew a bit of a face peering round an open door. The 'Hide' part of Hide 'n' Seek.
Scamp cut the last of her roses today and they were sitting in a vase on the coffee table. With such good light streaming in the window I couldn't resist the opportunity. Look on Flickr and you'll see them.
Tomorrow Scamp is meeting Annette who is coming to Cumbersheugh to get her Juke MOT'd. How is that for synchronicity? I may go for a walk.