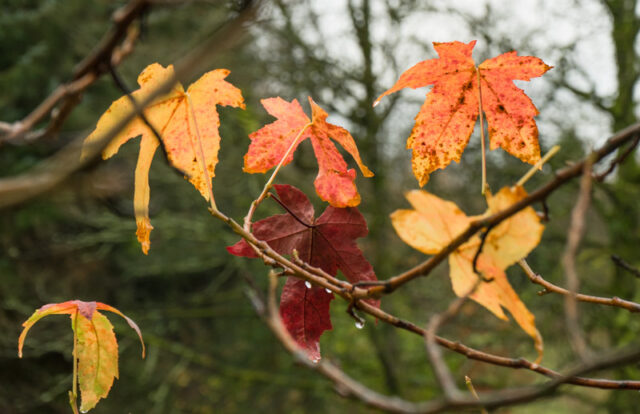 In a way I'd have preferred fog to the ubiquitous white clouds.
Today we were heading to Kilsyth to get some gin for me. Cheap gin, but I like the taste. With that in mind, we went via Lidl and picked up a fair bit more than a bottle of gin. Waited in the queue, but when we'd loaded our goods onto the belt the flake in front of us put a 'dead' card into the machine and screwed up the till. She said she'd kept her old cancelled card and that was what she'd used by mistake. Neither Scamp nor I believed it. It then took the assistant ages to put things right again. I have a feeling there was a scam being played out here. Who keeps their old cancelled bank card unless they're trying to pull a scam?
Drove to Colzium House for a walk round the grounds and hopefully a couple of pics. I did get a PoD, but that was the good one with around 30 duff shots. After walking round the trees and the almost silted up curling pond, we walked through to have a look at the loch. Banton Loch is manmade and was built to feed the Forth & Clyde canal in the 18th century. I'm sure on a bright summer's day it's very photogenic, but today it was just a pool of dull grey water. We walked to the outfall dam and read about the battle of Kilsyth in the '45 rebellion. Strangely there was a footnote on the commemoration cairn in French. There was nothing to see here and nothing to photograph either. That didn't stop me taking photos that I just knew would be deleted later. We drove back home for lunch.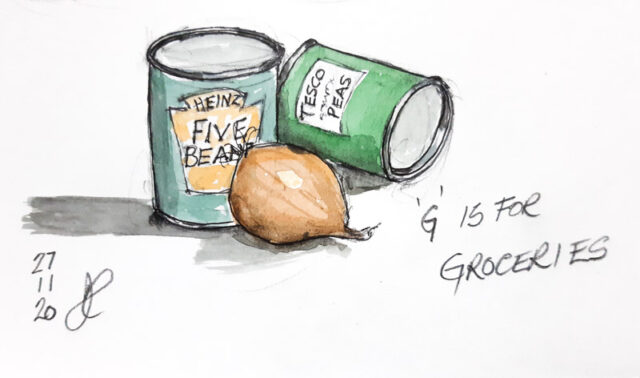 Walked to St Mo's in the afternoon to try out the Sigma 105mm macro on the adapter for the Sony. It performed really well, but the weather and the light hadn't improved since the morning and I had to give up. PoD went to the leaves we saw at Colzium. Today's sketch nearly never happened. I just couldn't find a 'G' subject until I saw a tin of beanz when I went to get some glasses from the cupboard. Set up a wee trio of groceries and sketched a thumbnail. As usually happens with these things, the thumbnail became the sketch and after I'd splashed on some paint it looked ok. Actually better than ok. I'm happy with it.
Hoping for some decent light tomorrow to get out and take some photos.