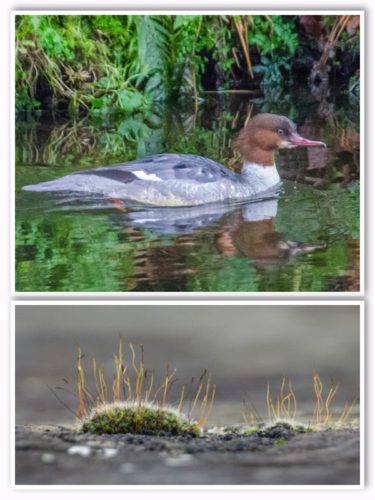 After a late start today, Scamp decided it was time to start dusting the shelves, wardrobe and anything else that didn't move. This gave me the incentive to move.
I drove down to Auchinstarry and noticed right away that the 'Cooncil' had put up a new notice by the flooded quarry. It read "No Swimming". Maybe they were just trying to get in ahead of the rush of folk ready to be first to swim across the murky waters of the quarry and whatever lies beneath its oily skin. However it's January. The water still has ice floes on it and it's rumoured polar bears have been seen on one of its islands. I haven't seen anyone stripping off and going for a mid-winter dip in the inviting waters, but I'm sure if they were determined to face the host of infections lurking in the depths, a 'Cooncil' notice wouldn't dissuade them. Possibly a Health 'n' Safety audit was the reason or maybe someone with too much time on their hands had committed a Risk Assessment to paper. Maybe as the end of the financial year approaches, they just had to spend their available money or risk losing it next year. Whatever it was, I'm sure the inhabitants of Kilsyth and District will completely ignore it, as did the swans and the mallards.
As I walked over the bridge over the Kelvin, I grabbed a shot of the moss growing in the cracks and that became my PoD. It looked like two wee green hills with alien trees growing on them. There wouldn't be much else to test my photographic skills for the rest of the walk. I was walking into a western wind and it was much colder than the 7ºc that had been the reading on the thermometer in the car. I was quite glad when I put my back to it on the walk back to the car park. I'd managed to get a couple of pics of a duck on the canal. I couldn't remember if it was a Goosander or a Merganser, but tonight the Internet provided the answer. It was a female Goosander. It was a grainy one too at 7200 ISO! The day was getting darker, the further I walked.
Dinner tonight was the remains of Thursday's mince pie and if anything, it had improved by resting in the fridge for a few days.
A surprisingly good program on TV tonight was an interview with Mrs McQueen, telling about her coronation and explaining that when she was wearing the crown she couldn't look down because she thought she'd break her neck trying to raise her head again. Not surprising when you realise that the crown weighs 5lb. That's the equivalent of two and a half bags of sugar! Just imagine carrying that around on your head. Really excellent program that didn't condescend, just gave you an insight into the pomp and circumstance of these royal occasions that we plebs will never get to take part in. Scariest bit was when she smiled. Can't remember seeing her smile before.
Tomorrow is Monday so it's Avoid The Gems Day. Gym 'n' Swim probably.