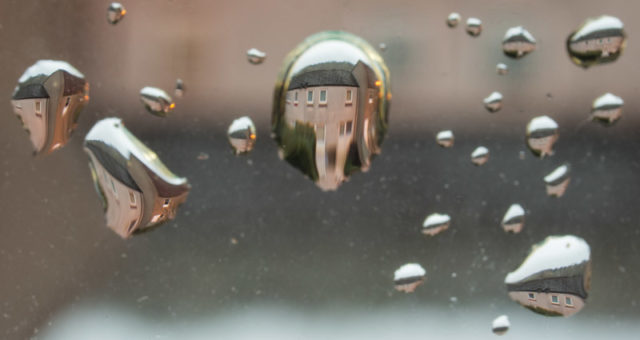 Today was Chris's dad's funeral. JIC had flown up specially for it last night.
He might have come up for the funeral, but before that JIC had to take a conference call with California and China. That's just the kind of circles he moves in these days. Half past eight this morning and he was on Skype, doing work.
The funeral went well, I suppose. Well, as good as these things get. This was the first Humanist funeral I'd been to. I don't confess to be a Christian. I suppose the closest I can get to religion is Buddhism, but even elements of that don't work for me. I didn't like the delivery of the woman who took the ceremony. Maybe she was new to it, but her delivery was too fast, too rushed with pauses that were too long and sometimes in the wrong places. It didn't have the solemnity of a Church of Scotland funeral, but the delivery there has a style all of its own too and its not a pleasant one either. I'd guess it's only someone who knew the person who has died who can really speak about them, from the heart, and that's what the people listening want to hear.
We went to the 'tea' afterwards and met a few folk we knew. I liked the way Andy, JIC and Chris shared memories of Chris's dad. That's more like what folk do at a traditional 'tea' after a funeral. They remember the good bits in a person's life and forgive the bad bits.
In the afternoon we went for a late lunch with JIC before he got the flight home. Unfortunately time seemed to slip away and the next thing I knew it was 5pm, we should have been on our way by then and we still hadn't had our pudding. Eventually we got served and left for the drive into Glasgow. CITRAC was displaying its usual useless nonsense. "Nineteen minutes to the airport" it said. Actually it took nearly forty five minutes through what is euphemistically called 'Rush Hour', except nobody was rushing. Finally dropped him off at the airport to go through security. We turned round and started to drive home when Scamp suggested we go for a coffee at Braehead. That gave just enough time for the congestion to decrease and allow us to drive at a fairly steady pace back home through the rain. The plants need the rain Scamp said. She's probably right.
Today's PoD was made possible by that rain on the back bedroom window. I liked it. I called it "Through the fish-eyed lens of tear stained eyes" lyrics from The Final Cut by Roger Waters. Seemed somehow fitting.
Tomorrow we're hoping to go dancing. Let's hope it's a happier day than today.