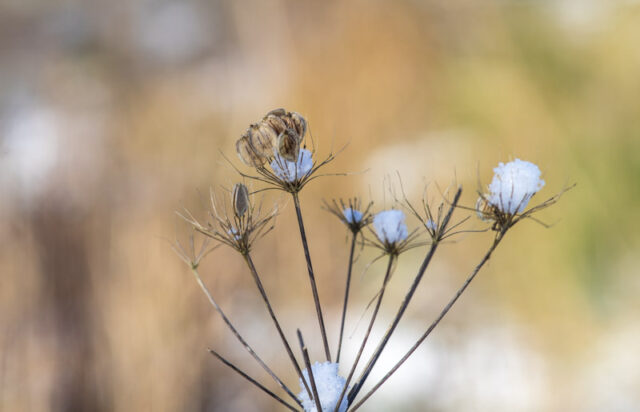 We woke to a white world today.
No more piling, this was real snow and a fair amount of it too. At first the air was clear, but soon the wind dragged more clouds from the east and they began to drop their load of snow, driven along by that same wind. Soon we could watch a full strength blizzard outside the window. We agreed that it would be best to wait a while before we went out for a walk.
Later when a few blizzards had blown through, the skies cleared and the sun shone. We gave it another fifteen minutes or so before we dared to get the boots on and go for that walk. However, it was not to be a long walk today, just in case the snow returned.
We need not have worried because the snow was kind enough to stay away long enough for us to complete our walk. I did get today's PoD which was my favourite wild flower, the Cow Parsley holding little pockets of snow in its talons. The sun shining through the trees gave a bit of dappled light to brighten up the background and the wind was calm enough to prevent too much movement. I used the old Sigma 105mm macro lens for it. It's more or less a manual lens now. It has no internal motor, so cannot autofocus which is a great disadvantage for a macro lens. However, it still takes exceedingly good photographs for its age. It's definitely Old Glass.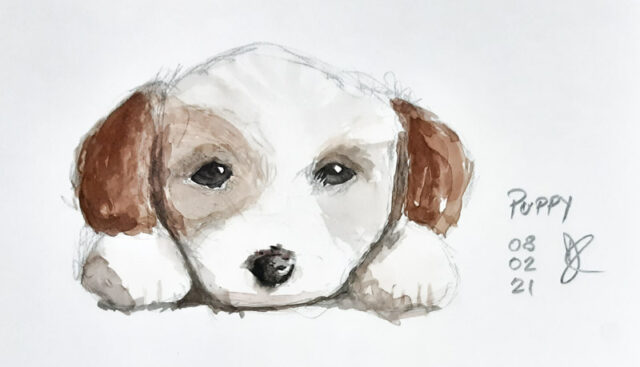 Back home and after lunch which was Scamp's minestrone soup, with lemons (!), I started to rough out today's sketch for which the prompt was "Puppy". The first rough looked good and assured me that I could do this. I'm not a great fan of dogs which is what puppies grow up to be, so I'm told. Cats I'm ok with, but not dogs. But that's why I enjoy I enjoy drawing from lists on groups like EDiF and 28DL. It forces me to face my demons, even if the demons are puppies. The thing to remember is that you're not drawing or painting a fluffy puppy, you're just drawing a shape and shading it to give some 3D appearance to it. I liked the finished result.
While I was puppy drawing, Scamp was baking. She was making a Sticky Toffee Pudding. I did help out a bit. I was in charge of liquidising the dates and water mixture that would go into the pudding. It looked absolutely disgusting. However I must say that the finished article was worth all that messy stuff. Probably not the least fattening food I've eaten, but it was disgustingly good!
Although we had our walk in a snowy landscape this morning without any of the white stuff falling from the sky, during the afternoon it made up for that with continuous blustery blizzards. Tonight it's continuing to drop more snow on us. I'm really glad we're not intending to go anywhere tomorrow.