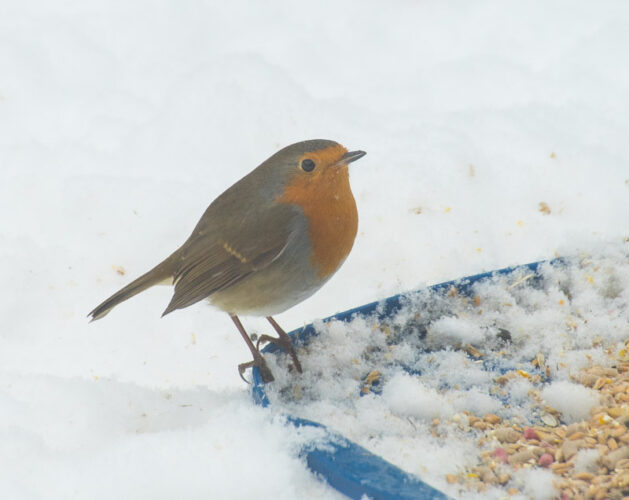 Usually I'm complaining about rain. Today is was snow.
It was snowing when we woke. There was no sign of the footpath at the front of the garden. Just a flat even surface of snow from the house out to the start of the trees on the far side of the path. One set of footprints where some unlucky soul had plodded his weary way to find his car in the whiteout. We went back to bed, thankful that today we'd nowhere to go and nothing to do.
When we'd had our morning coffee and were wondering it the snow would go off today, we made the decision to clear the path to the main footpath. With two of us working at it, it didn't take too long. Then I remembered we had a bag of salt that I 'obtained' from the janitor at the school. Scamp showed me where it lived at the back of the overcrowded bin shed. After some swearing I brought the bag out and spread some salt over our efforts to hopefully preserve some of the clearing we'd done. It seemed to work.
After lunch I assembled my long lens on the Sony and grabbed some shots of the blue tits and robins in the garden. I felt sorry for the wee ground feeding birds in the back garden, so we found an old plastic tray and filled it with birdseed, leaving it in the back garden. It was soon cleared, so we refilled it and that lasted for a couple of hours and provided today's PoD. It was taken on my old Tamron 300mm lens that never really worked properly on the D7000. It certainly works on the Sony. Then a heavy shower of snow covered the seed tray and by that time the light was going. Unfortunately the snow showed no signs of giving up.
Dinner tonight was Spaghetti a la Anything in the Fridge. It worked quite well, but could have been better. The Sticky Toffee Pudding however was excellent again.
We had a quick reprise of the rumba routine tonight and watched a few of our old salsa moves. Old being the operative word as some of those videos go back to 2010!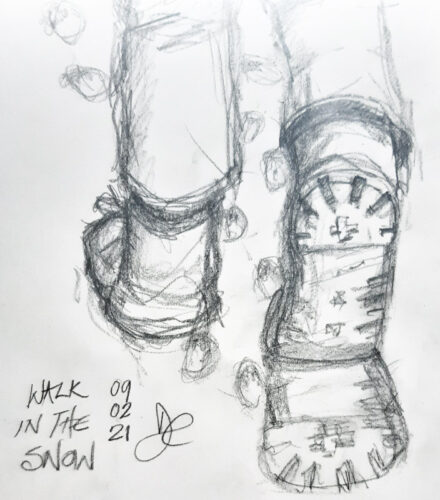 Sketch tonight was "Walk". I'd already decided I wasn't going out in that snow which was now nearly up to the top of my wellies. No, today's sketch was purely out of my imagination aided and abetted with some images from Google Images. I looks reasonable and will do the job.
Tomorrow looks cold, with temperatures not likely to go into the positive numbers at all. We may stay in.