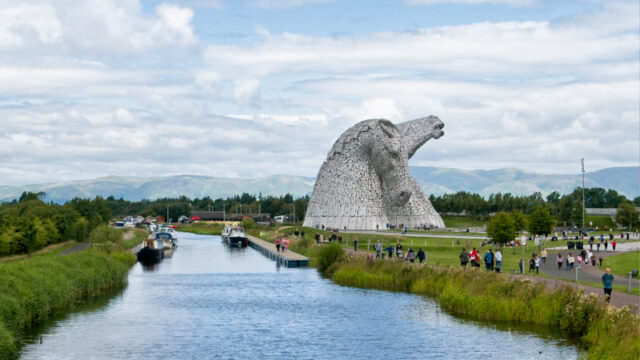 Today we went to see a couple of old friends.
Scamp and I went for a wee run today to see a couple of old friends. One with his head always down. Some folk say he's watching you. The other one has his head high. Some think he's in pain, I think he's laughing out loud at all these little folk around him. It's ages since we've visited the Kelpies, not been there for months and I think Scamp was looking forward to seeing them again. I must admit I was too. Because of the Covid-19 restrictions, the Visitor Centre was closed, but there was an ice cream van and it seemed a shame on quite a sunny day not to have one each. We walked around them and then followed our noses to the lock that allows boats access to the River Carron and thence to the Forth Estuary and the sea. We were waiting to allow a couple to cross the narrow walkway over the lock gates when I recognised them. One was a teacher in the school when I started and the other was his wife. We stood and talked for a while about our respective families. We also talked about folk we'd known and worked with, some of whom are no longer with us. Eventually we had to go, but as usual when something like that happens throughout the afternoon little snippets of memories drop into place. A nostalgic meeting. They walked back to their car and we carried on with our walk on the far side of the canal.
For all the times we've visited the Big Horses, this is the first time we've crossed the canal and seen them from the other side. You get a completely different view of them from the other side and best of all there are no pylons or power lines to erase from the resulting photographs. Today's PoD came from the bridge further back upstream, if you can have an upstream is a canal. I'd never photographed them from that viewpoint before and it's such a natural choice with the Ochil Hills in the background.
Back home after lunch, Scamp wanted to prune back the blackcurrant bush in the hopes that she can get rid of the virus or insects that are damaging it, I don't think either of us is really sure that it will work, but if we don't try, we'll never know. I got my hands dirty planting some more carrots and kale into pots to go in the greenhouse. The kale should be ok, but I'm not sure if the carrots will work. I've never been successful with transplanting root crops. I also bit the bullet and spread slug pellets in the raised bed. I don't like using them where I'm growing stuff to eat, but I reckon it's the slugs that have taken all the carrot plants I had there. There are definitely traces of slugs on the well eaten kale leaves. I checked them and there are no signs of caterpillars, so slugs are the best bet. Let's hope they like their last meal of blue slug pellets.
That was about it for the day. A day at the Kelpies is always uplifting, but meeting another couple of old friends just made it extra special.
Tomorrow rain is forecast, so we may 'Go for the Messages."