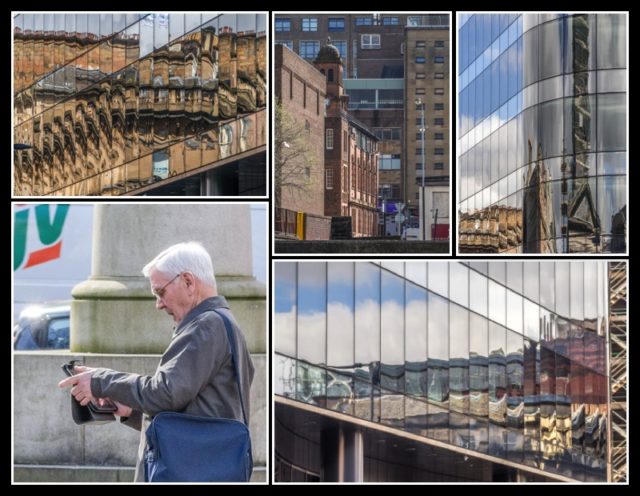 It wasn't a bad day. Up a bit earlier than normal today to take my niece and her mum to a hospital appointment. Rather than sit in a crowded carpark waiting for them, I thought I'd just drive in to Glasgow. Followed my nose and relied on guesswork to get to where I was going. On the way I passed a Chinese supermarket and went in to see if I could find Dried Fenugreek Leaves because I'm sure the Indian chef who took the cook school I went to had listed them as one of the main ingredients in pakora. They had loads of dried an fresh herbs and veg, but no fenugreek, dried or otherwise, so I left empty handed, but I'm going back there some time for some Chinese curry mix like Jackie made for us in Skye.
I got parked easily up on St Mungo Avenue in Glasgow and walked down past Queen Street station and looked across past the College of Building and Printing as-was, now Glasgow Metropolitan and liked the light on the old sandstone building (top middle). On through George Square where I caught the wee man looking bemusedly at his iPad and down Queen Street to peruse the bargains at Cass Art. There were none – bummer. Walked back up and admired the reflections on the new office block, not for the first time. Managed a few shots, but then a crowd of school weans arrived out of the GOMA (Gallery Of Modern Art) clutching sketch pads and pencils and proceeded to sketch everything in sight. I put my camera away, knowing I had my PoD in one of the reflection shots. I'd just sat down with a coffee in Pret when my phone rang and I knew the Outpatients were ready for their lift home, so back up the hill again and back home via the hospital.
After lunch which was fried bacon, potatoes and egg (not the healthiest perhaps, but very, very tasty) Scamp wanted to go shopping. I decided my calling was more cycle related and put the bike on the rack on the car and got going to Auchinstarry. I'd decided it was warm enough for shorts. It was, but only just.  Today was not as warm as yesterday or Wednesday with clouds massing over the hills. Colder, but ideal for another go at another time lapse (That technique is becoming a bit 'old' now that I can remember its name – time for something new). Cycled along to Dumbreck and set the camera up on the Gorillapod on a fencepost and fired off a 100 frame, 10 second interval movie.
Then changed lenses and did another 100 frame, but 5 second interval movie. That was enough for me. I was getting cold standing around so I packed up and headed for home.
I was just fitting the bike on to the rack when the first splashes of rain appeared on the roof of the car. There was that delicious earth smell you get when it rains after a long (for Scotland) dry spell. It rained all the way home, but when I drew into our street the road was dry. Got the bike in to the house and the raindrops appeared on the window. It must have followed me home.
So, on reflection, it wasn't a bad day!