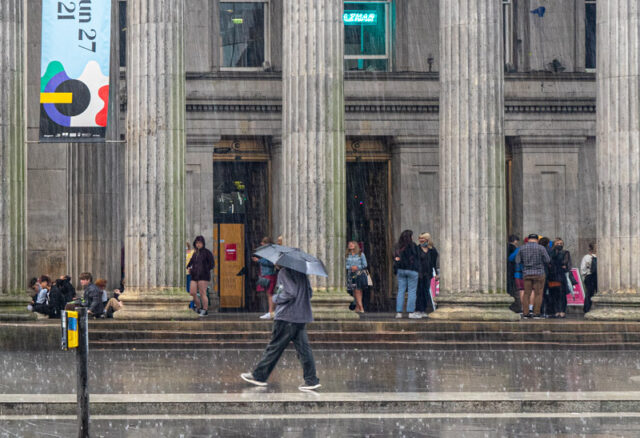 Not only that. Silver was twenty quid more than black.
We had a rather lazy morning with me reading Merlin Sheldrake's book on fungi. I never knew they were so devious and also interesting. The section I was reading today was about lichen. Amazing things. I already knew about they really were a symbiotic relationship between fungi and algae, but I didn't really understand what that meant. Now I do. I also found the word "mitochondria" and I wanted to shout out "Hey! My son knows about them!" This Merlin bloke treats this whole book like a thesis with all the references that entails. Heavy science for me, but absolutely absorbing in a literal sense. Who knew that lichen can absorb rocks!
Finally I had to leave the world of lichen, fungi and other things of that ilk and get up and face the day. We'd said we'd go in to Glasgow today and that's what we did. As we were driving along the M80 in the general direction of Glasgow, we saw the CITRAC signs warning about surf water. Now the CITRAC is notorious for getting things wrong, so we ignored the warnings. Hmm, then we saw the spray on both carriageways ahead. A few seconds later the rain hit us, literally hit us. I did consider turning off and going back home, because the wipers weren't really clearing the screen and cars on the outside lane were leaving wakes from the wheels. Then as quickly as it had come, it stopped.
Parked no problem in Buchanan Galleries and I walked into JL while Scamp went off to Boots. I was looking for a camera, but they only had it in silver. I wanted it in black, and I was going to take the black one when the bloke said that the silver one was twenty quid more expensive. Twenty quid just for a silver camera and lens? I think not. I ordered it and paid for it. It will be available for collection on Tuesday.
Met Scamp and we walked down to Paesano for a pizza lunch. She had Tomato sugo No garlic, oregano, Evoo (Extra Virgin Olive Oil) plus Spinach and Mushroom. I had a basic number 5 which is Prosciutto with mushrooms, tomato sugo, mozzarella and Evoo. Both were delivered double quick and mine had that lovely, slightly burnt crust. Delicious! The next time you are in Glasgow, you but go!
I walked round to Cass Art for a browse. Scamp found a dress shop to investigate. When I came out of the art shop it was bucketing down, absolutely hammering it. Scamp had texted me to say she was trying on a dress or two and I agreed to meet her there. That meant I'd to try to get into some shelter first before I got soaked. I found a lot of folk sheltering under an extended roof of an office building that gave me a good view of others sheltering under the portico of the GOMA. Instant photo that became PoD.
Found Scamp and we agreed the first dress was a possible but the second was a definite no-no. She wanted to leave it for a day or two to think about the 'possible' and I suggested she join me when I go to collect the camera on Tuesday, all being well. After that we found the quickest and shortest way from Queen Street to the Buchanan Galleries, but we were both still soaked by the time we got there.
By the time we were leaving the car park the rain was almost off, but traffic was jammed up everywhere. That's when Scamp's knowledge of Glasgow came to the rescue as she directed me back on to the motorway. I didn't think we'd missed the rain. I was almost certain we were going to drive right into it again and I was right. A few miles out of Glasgow City we drove through it again, and again, by the time we arrived home it was almost dry. The rain did catch up with us again once we were in the house and we had some thunder too, but no lightning yet.
In what was left of the afternoon I found all the bits and pieces of the camera kit I'm going to sell to help pay for the new camera. We'd always agree that this was a 'One in, One out' deal and I'm happy to stick to that.
A short practise tonight, then a study of the video before another shorter but more useful practise almost prepared us for tomorrow. Hopefully we won't look as if we're totally lost this time.
Tomorrow's weather looks much like today's, so it will need to be another early rise to be there for 11am.