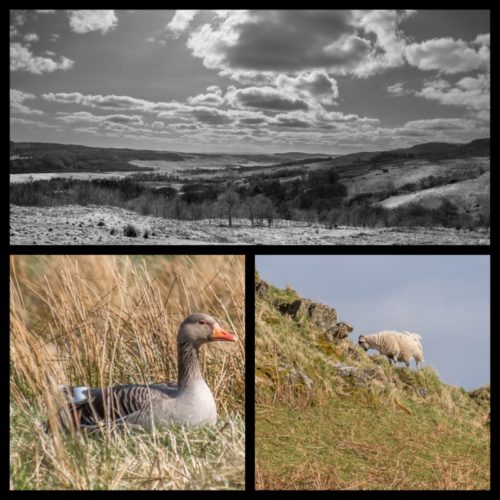 Got up this morning and couldn't think of anything I wanted to do.  Yes, it was sunny, but it was cold.  Yes, there was very little wind (good for cycling) but that wouldn't make for interesting skies.  I was feeling quite down.  In an attempt to lift this "creeping malaise" to quote Floyd, Scamp suggested we go out for a light lunch.  So off we went.
I'd driven over the new Drumgrew bridge yesterday.  Now don't look askance, this is quite a big deal.  The bridge has been closed for over 5 months now to allow it to be raised to accommodate the cabling for the electrification of the Glasgow – Edinburgh railway line.  The closure has been a real pain as the only other direct route from Cumbernauld to Kirkintilloch is a single track road with very few passing places.  So to return to today, we drove over the new Drumgrew bridge and out towards Kirkintilloch – nobody in their right mind actually wants to go to Kirkintilloch, which means that the upgrade of the Drumgrew bridge was a bit pointless really!  To cut a long story short, we drove to Drumgoyne and had lunch in a garden centre there at a table next to the window and in the sun.  My ennui was lifted.
Rather than drive back the same way we had come, I turned at the end of the road and we went back through Killearn then over the hills to Fintry.  It's been ages since I've driven along that stretch of road and today was a good choice.  The light during the run was lovely with bright sun and fluffy clouds driving shadows over the hills.  Just what I wanted for another time lapse.
[Have you ever had one of those words or phrases that's in your head, but just won't come out your mouth, or in my case down to my fingers and out through the correct keys.  Time Lapse is my blind spot.  I know the technique.  I could, and often do, give anyone the MEGO effect (My Eyes Glaze Over) talking and enthusing about it, but ask me what it's called and all I can say is "That time exposure thing, no, not exposure.  Delay, no, not delay either.  It's that effect you see on the TV all the time."  One day I'll remember the phrase, but by that time I'll have moved on to some other obscure effect, I'll forget ITs name, and the whole thing will start again.  Aargh!]
The Time Lapse.
It wasn't the most dramatic scenery.  We're not talking Rannoch Moor here, just some low hills with interesting clouds casting shadows on them and best of all, a convenient parking place.  Unusual in itself in Scotland.  This time I set an interval of 5 second and 60 frames.  That would give me just over 4 seconds of video time for 3 minutes of filming / frame recording time.  This was a much better setup than yesterday.  Firstly because I was using a tripod today, but secondly and mainly because I could sit in the car instead of wandering around like a spare …  The video, once the Oly had created it, was good enough.  More leisurely than yesterday's one.  That may have been due to the shorter interval or to the fact there was less wind than yesterday.  However, it worked and that's the main thing – and the focus was correct this time!  You might notice that I collected a few cars on the road in my time lapse (see, I'm remembering it now) and also, towards the end was photobombed or should that be time-lapse-bombed by a bee!  Once I get the thing sorted out in my head and remember its name, everybody wants to get in on the act!  While I was packing up I noticed a goose sitting snoozing among the bracken over in the next field.  By the time I'd changed lenses it had woken up and was keeping an eye on me.  I grabbed a few shots and left it.  I imagine as it didn't immediately fly off that it was either hung over from the Old Firm match on Sunday or it was sitting on eggs.  Either way, I didn't want to annoy it and we drove away.
We stopped further down the road at the Crow Road car park (remember going there to do mountain climbing JIC and Hazy?).  Spent some time watching the shadows running across the valley rather than trying to record them.  That's where the monochrome landscape came from.  Behind me some sheep were lunching on the thin grass over by the rocks and I thought they'd make an interesting shot or two.  That explains the shaggy sheep shot (be careful how you say that!).
Hoping for more sun, less ennui tomorrow.