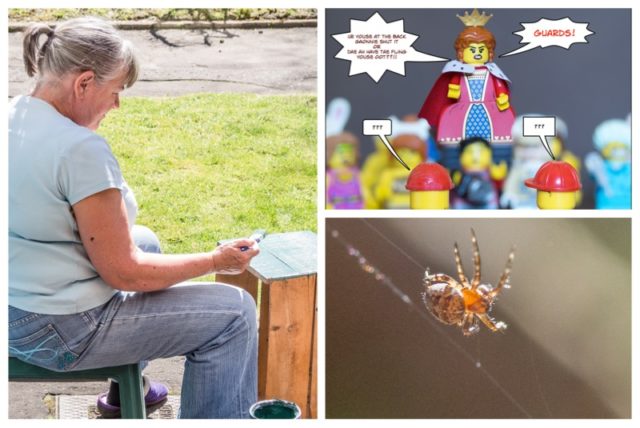 Today was a lovely day from start to finish – unless you were a Rangers supporter because they were beaten 3 – 2 by Hibernian for some cup or league or other.  Personally, I couldn't care less.
Stayed in in the morning waiting for the postman to bring my second camera strap.  This one destined for my E-PL5 or '5 as it's now known.  While I was waiting, I put my boots on and went and cut the front grass.  It seemed a shame to just sit there on the step soaking up the rays when I could be doing some useful work and since Scamp had a muscle pain in her arm, the grass cutting would probably make it worse.  Postman arrived just as I was finishing and he did indeed have the strap.  A bit wider and more colourful than the previous black one.  I'm quite impressed with the quality of these straps.
After a quick bite to eat I rolled the bike out and went for a run.  The weather couldn't have been better.  Almost no wind and a blue dome above me.  It's a while since I've had a chance to wander over one of the wilderness walks and a bike is the only way to get there.  No parking places nearby, so a bit of exploration and some exercise too.  Didn't do very many miles today, only about 6 miles all in, but hopefully I'll get more done during the summer.  I meant to mention in yesterday's blog that I saw my first swallows yesterday.  Three definite sightings.
As I was leaving, Scamp started painting an old orange box that will hopefully hold her sweet peas.  The orange box must be over 30 years old and came from my mum and dad's house.  It's wooden, probably beech and originated from Cyprus.  It might have been my brother Alex's toy box at one time.  Notice the carefully mown lawn in the background!
While I was out I managed to get the shot of the spider hanging from its web.  I liked the translucency of the body with the light shining through it.
Before I went out I took the preparatory shots for the Weemen picture and finished it off tonight in Comic Life via Photoshop.  One more to go in the series.
Salsa tonight was easy as far as moves were concerned, but hard on the legs and feet.  Scamp says it's because of the concrete floor.  I don't know if that's true, but it was sore on my wee feet.
May go in to Glasgow tomorrow if the weather holds.