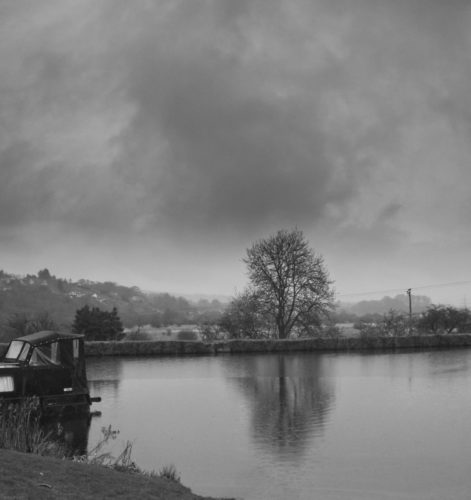 Today as I expected we were going to look for more flowers and have lunch too. Both these things are becoming habit forming.
In the morning I broke my rule and painted a bunch of grapes instead of an apple. I hope that won't cause any great rift in the space-time continuum. When I came downstairs Scamp broke the bad news that there was no Glasgow flight for any of the cruise holidays we had on our short list. Not to worry, I'm sure something will turn up.
Scamp wanted to go out to Torwood Garden Centre to get more flowers for some spring colour. I suggested that on the way back we could go to The Boathouse, the new improved Boathouse which seems to have changed its name to Hebo House. Look on Flickr to find out what I'm talking about. She even offered to drive us there, which made it an offer I couldn't refuse.
Drove to Torwood, loaded more plants of a flowering persuasion into the car and drove to Hebo House. It's a much more welcoming place than the one that was there before. It was all style and no substance as I recall. As usual when testing a place we had our standard lunch. No starters, Fish 'n' Chips for Scamp and a burger (no mayo) for me. I hate mayo on a burger. It just makes the whole thing slippery and difficult to hold, not to mention the mess it makes on my jerseys. Both meals passed muster, although the mushy peas with Scamps F 'n' C were inedible and the coffee was poor. We'll go back all being well. When we were going in I noticed a photogenic tree on the far bank of the canal and was going to take a quick snap, then decided I'd get one on the way out. When we were leaving, it was bucketing with rain, but I stuck to my guns and grabbed two quick shots. One of them later became PoD after a fair bit of work.
Back home I made some beef olives, froze two of them and the rest go in the fridge for tomorrow's dinner. I was just finishing when Scamp shouted that she'd found a cruise with a Glasgow departure. Superb! We booked it on the spot. We shall sail the seas again. Not for quite a while yet, but that gives us something to look forward to. Not only that, we've got a balcony cabin!! I can't wait, but I'll just have to. The booking this year was a joint effort with both of us looking and poring over web pages for hours.
Went back upstairs and painted a poor effort of a couple of apples and some grapes. It covers the remit, so the space-time continuum should be ok, but it wasn't a great painting.
Tomorrow we are intending to go dancing in the afternoon and at night. We'll see how it pans out. We also need to get some practise done in the morning.