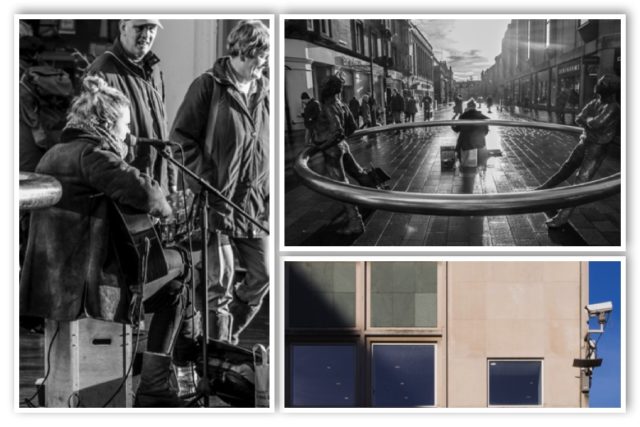 Today we went to Perf, Perth to you.  It was a really dull, dreary day when we left the Cumbernauld Cloud, but true to form, the weather brightened up about halfway to Stirling and from then on it was a lovely day.
Walked from the carpark to the coffee shop to start our visit in the time-honoured fashion and stopped at Clarks shoe shop to see if there were any bargains.  There were and a new pair of shoes and trainers were soon bagged and paid for.  I think the trainers may replace the ones I got last week.  Both are Goretex which I think is the bees knees as far as walking in Scotland is concerned, in fact all three new pieces of footwear are Goretex.  Coffee scoffed we wandered for a while around Perf and decided on an early lunch.  We went to a new (to us) cafe and I had a lamb burger (which I am suffering for now) topped with feta cheese.  Not sure it's a great combination.  I get the link: Feta – cheese made from sheep's milk and Lamb, but it just didn't taste that good.  Maybe it's just me.  Scamp had a chicken burger which seemed to go down well.  Coffee was on a par with Callander Coffee!
After lunch we split up Scamp went shopping for a bag and I went looking for books.  Didn't find any, but I did pick up a lovely Dylan album in  the Bootleg series.  From the Philharmonic Hall in New York 1964.  An all acoustic set.  Brilliant.  Scamp didn't find a bag – the search continues.   I also got today's trilogy.  The girl in the mono shots was busking next to the the iconic street architecture in the main street of Perf.  Actually she was quite good and I really should have dropped some money in her guitar bag.  I liked the graphical nature of the the square window overseen by the security camera.
When we met up again, I went and got some coffee and tea and also dropped in at a fabric shop and bought some blue cotton with white spots to make another bow tie, a keeper this time I hope.  By the time we got on to the main street, the light was failing and it was time to drive home.  I felt quite sorry for the old church at the end of the main street.  I've photographed it a few times.  It used to provide great shots of pigeons sitting in the broken stained glass windows.  The last time we were in Perf there was scaffolding on it and I hoped it would be renovated, but today there was a security fence round it and the scaffolding was gone.  Soon, I think the church will be too.  Such a pity.
I finally managed to rip the Monty Python DVD tonight.  I used an old program that I've used in the past and also one that Hazy suggested, 'Make MKV'.  It wouldn't work on the Mac, I think it didn't like the DVD player being connected by USB.  Maybe the information stream wasn't quick enough.  However, when I used the PC laptop, MakeMKV got to work right away and after half an hour or so later I had the rip.  Unfortunately it was a 4Gb rip.  Compressing it into an MP4 file looks like it's going to take a couple of hours, but that's a job for tomorrow.
No plans for tomorrow yet, apart from converting from MKV to MP4.