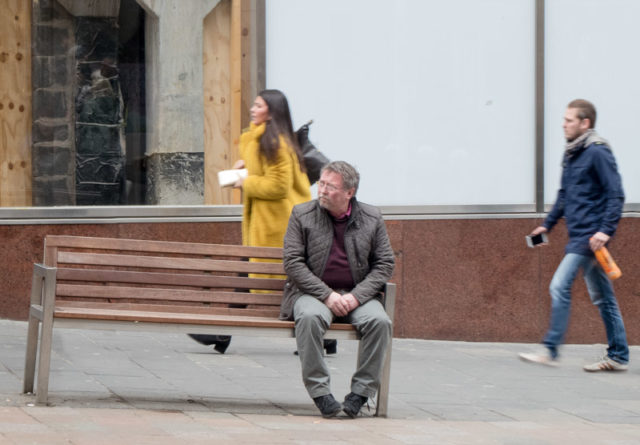 Today Scamp had booked lunch for us in Chaophraya Thai restaurant.
Got the bus in to town and went for a wander up Sausage Roll Street. Stood gaping with the others at the demolition of the New City Palace restaurant, Greggs, The Works and who knows what else? They might even have to demolish Lauders! It will have a lot of smoke damage from the fire next door, but will any of the clientele notice? Probably not. It will just add to the ambience.
While Scamp looked for holiday stuff, I went to Waterstones. Found a book I was looking for, but didn't buy it until I'd consulted Amazon. Glad I did. Waterstones price for the 'real book' £12.50. Amazon price for the kindle version £0.99! No contest. Did buy myself a 'paintery and painterly' book with some very interesting techniques in it. May try them out this week. Got a bargain of two posh rugby shirts for less than half price in M&S. Walked down the town looking for somewhere to get a drink. Found Drury Street Bar where Scamp had a G 'n' T and I had a pint of draught Joker IPA, except it tasted exactly like the bottled version. Not real ale then. Quite a young person's pub with everyone playing games :-/ Can't imagine what the members of the UBI club would think about Dungeons & Dragons! Then it was time for lunch.
Pork Dumplings and then Thai Green Chicken Curry for me and Veg Tempura and Thai Red Prawn Curry for Scamp. Both served with Jasmine Rice. Starters and mains were the usual exceptional quality.  Only slight disappointment was Scamp's Coconut Ice Cream and my Moroccan Mint Tea. Scamp's complaint was that it was just ice cream with a bit of coconut – as she said, we've tasted the REAL stuff in Trinidad and in Tobago. My complaint was the MMT was advertised as Loose Tea and what I got was a tea bag in hot water. Not the same thing. Foodies, what can you do to satisfy them?
Bus home afterwards and although the weather had been warm and dry, just got in and  the rain came on and stayed on all evening.  Watched the qualifying for the F1 GP in Bahrain and then the final portrait of some american actress, Kim Cattrall, painted by the winner of Portrait Artist 2018. The portrait, to our eyes, was poor with only a passing resemblance to the actress. Having said that, she got what she deserved. She was so full of herself and her love for Liverpool (which she left when she was three months old according to Wikipedia). Who knew what she actually looked like.
Still plugging software into the new Linx. It's still holding a good charge and joy of joys, Lightroom 6 on it reads the problematic Panasonic TZ70 raw files. You don't need to know what that is. Just accept it that it's a very good thing!
PoD, in fact almost the only picture of the day is of some bloke looking really lost and alone in Buchanan Street. Almost feel sorry to post it!
Tomorrow? Don't know. May go to a food fair in Glasgow. Foodies? Us? May go cycling if the weather stays warm (9ºc just now at 11.30pm). Who knows. I get to decide, apparently.